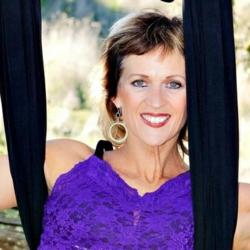 When we were kids on the playground, we didn't think about burning calories or firming glutes. We played our way into shape. In a Fly Gym swing, you return to your playground glory days.
New York, NY (PRWEB) February 06, 2013
Co-creator of FlyGym Aerial Fitness, Aruna Andes presents Basic Teacher Certification for this almost-limitlessly-adaptable regimen which can be applied to yoga postures, Pilates moves, pole dancing workouts, and aerial arts inspired exercises. The training will be conducted at Namaste Yoga Center UWS NYC located at 371 Amsterdam Ave between 77th & 78th Streets on Friday Feb 22nd from 9:00AM - 3:00PM. Participants will learn how to perform aerial yoga and other exercises partially or fully suspended off the floor, whether in studio, gym or at home.
This 6-hour training is designed for fitness instructors, yoga & Pilates teachers, personal trainers and fitness enthusiasts who are interested adding aerial fitness instruction to their repertoire. Participants will learn about the benefits of partial and total suspension training and the physics of human movement off the ground. Students in the course will also learn effective cueing & spotting techniques, and how to create, progress, and modify exercises in order to design their own FlyGym class. After showing proficiency in the program design and teaching skills students will receive a certificate of completion as a FlyGym Instructor.
Aruna has made a stop in New York City prior to traveling the U.S. and abroad with a team of master FlyGym trainers. In an Exclusive Limited Engagement at Namaste Yoga Center, she is presenting this one-time-only FlyGym teacher certification as well as a range of weekly classes and supervised open gyms through February in which people can experience low-flying aerial exercise geared for them.
In making comparisons to TRX Training and Anti Gravity Yoga, the differences are simple. Like TRX, a person can pull up on straps for support, but unlike TRX, with FlyGym, a person can stretch in the fabric suspended from straps, even take a nap in it. Like Anti Gravity Yoga, FlyGym is is an aerial swing, but instead of one hammock, there are six additional loops for suspending the body in an infinite variety of positions. Also, FlyGym is manufactured by fire fighters who make rescue equipment. In trusting the safety of the equipment which suspends the body off the ground, knowing that fire fighters built it adds a great level of security.
A typical FlyGym workout is a blend of pull and push play with melting delicious stretches. Like a monkey in a tree, the arms and legs work and play in co-ordination in a series of climbs and rests. In rest, the arms and legs can dangle below where the floor would be if the body weren't suspended in a swing, promoting a series of ooh's and ah's.... the body feels good while in a workout using this form of suspended exercise.
What the body system gets from a FlyGym workout: it works the core like crazy, upper body, legs and the intrinsic smaller connecting muscles that promote full muscular, kinesthetic awareness. All of this while swinging forward and back, swaying side to side, bouncing up and down, putting the butt in the bag and hips into happy traction. Ah.....
As kids on the playground, burning calories or firming glutes wasn't on any list of priorities. Kids just play their way into shape. In a FlyGym swing, adult bodies using creative fitness methods return to playground glory days. The forces at play in FlyGym are counter to the overly-sternuous push and pull - yank and tug forces that so many fitness regimens promote which force the body in ways that often hurt and cause injury.
At Namaste Yoga Center, swings hang from the ceiling and the wall, like Iyengar yoga straps, showing the versatility of the program and taking restorative yoga to a whole new level. In pole studios around globe, pole dancers also condition and practice advanced tricks while hanging in a FlyGym swing, which can act like a set of training wheels for pole.
Instructors will also have access to an always growing library of short instructional videos clips.
View just a few possibilities in this Intro to FlyGym Aerial Fitness
Trying one of the group classes or open gym times, with workouts deigned just for you is easy. Book an appointment in advance by sending an email to aruna(at)flygym.com.
Aruna has been a fitness professional for over thirty five years. She's the author of several books under the name Karen Andes, and was Cher's personal trainer on "Cher's Body Confidence." She's the proud co-mama of FlyGym and it's leading edge content. She's also FlyGym's most loyal client. She's an ageless 56 who stays that way by easing her scoliosis and preventing hardening of the attitude by staying supple and strong, the FlyGym way.
Complimentary private press previews with Aruna Andes are available at alternate times