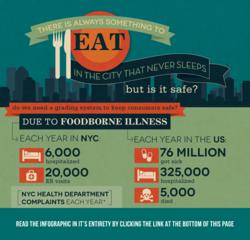 The letter 'A' is synonymous with sanitary; anything else is not
New York, New York (PRWEB) February 07, 2013
Letter Grade Consulting along with Keeping It Kleen, announced the launch of a new Infographic highlighting the overall impact of New York City's Letter Grade System.
When the NYC Health Department began requiring restaurants to post letter grades summarizing their inspection scores in July 2010, it was unclear what the impact would be on not only the restaurant but also the consumer and the city. Within the first 18 months, the impact was clear. Not only did NYC restaurants see an increase of sales by $800 million, consumer awareness rose to such a degree that 76% of surveyed New Yorkers said they feel more confident about dining at a restaurant with an "A" in the window.
The colorful Infographic connects readers with other Letter Grade facts such as:

22% of NYC restaurants showed evidence of mice
Salmonella cases have declined by 14%
70% of NYC adults are concerned about getting sick when dining out
The direct financial impact to a restaurant's bottom line is what created the business model for the Letter Grade Consulting (LGC) firm. "A customer's perception of a restaurant and its cleanliness starts before they even step foot inside, thanks to the prominent grade in the window. The perception is that the letter 'A' is synonymous with sanitary; anything else is not." said Rada Tarnovsky, a NYC Attorney and President of Letter Grade Consulting "Anything other than an 'A' in the window for even a day will result in loss of business," adds Tarnovsky.
Letter Grade Consulting, backed by national food service distributor Maines Paper & Food Service, Inc., provides restaurants with an all encompassing service approach through mock health inspections by former NYC Health Inspectors, compliance audits, food safety education and assistance with the permit process and tribunal representation. The goal is to provide restaurant owners with everything they would need to operate their establishment at the highest level, without forfeiting valuable time to run their business.
Download the Letter Grade Consulting and Keeping It Kleen Infographic
For more information visit Letter Grade Consulting or Keeping It Kleen