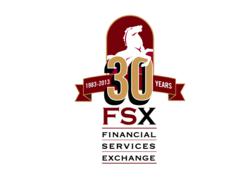 Come celebrate with us, find great companies and obtain great exposure!

Dallas, Texas (PRWEB) February 01, 2013
Financial Services Exchange, Inc. (FSX), the premiere Investment Conference organization in the US, will be holding its 118th consecutive quarterly investment conference from Thursday, February 7th –Saturday February 9th at the Ritz Carlton Hotel, Dallas, TX and they are nearly sold out.
Private and public companies that need access to the Financial Community for Funding or Exposure should register today to participate at the upcoming Financial Services Exchange, Inc., (FSX) event.
In addition to the various networking events, all presenting companies will receive many benefits such as:

A list, including contact information, of attending Broker Dealer principals and buy side attendees just prior to the conference so you can begin your marketing efforts.
Opportunities to present your company in a formal environment.
Opportunity for access to the secure FSX data room directory of financial professionals.
Inclusion in the FSX secure password protected data room.
Complimentary professional videographer who will video tape your presentation.
Post conference follow-up.
Your website linked on ours, post conference, for ease of our brokers contacting your company.
Locked-in presentation rate for one year.
New Benefit: FSX and Beyond - FSX IDeal room.
FSX InterlinkedTV - One on one interview professionally edited and hosted on our Web Channel.
For more details and a complete list of benefits, visit the FSX website.
FSX Executive Director, Judy Ensweiler confirmed that they are nearly sold out and urged companies to reserve their spot today. "Reserve your spot by registering now! We will have a limited number of companies making presentations to broker dealer firms from around the country."
About FSX & InterlinkedTV
FSX is one of the most reputable and established national alliances in the country for the independent broker/dealer network, providing education and opportunity. At each FSX conference, we bring the CEOs and executive officers of the presenting companies together with the principals and key decision makers.
InterlinkedTV is an internet video production and distribution site dedicated to Entrepreneurs and Investors. We feature education, public and private companies, venture capital news, and investment events. This content is exclusive and cannot be found anywhere else. We give our members and viewers a unique chance to meet the CEOs and executives of high growth companies.