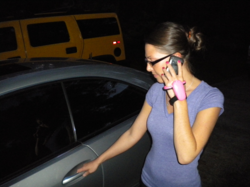 Everyone should have this pepper spray device, especially women.
Jacksonville, FL (PRWEB) February 19, 2013
In an era where safety is Americans' number one concern, Torrence Enterprises introduces the RUN SAFETY pepper spray device that allows the user hands free protection. The revolutionary security device patented in 2005, slips over the user's hand and straps to the wrist leaving the user's hands completely free to open doors, carry bags, jog, exercise, or even drive a car.
Torrence Enterprises president, Domonique Torrence states the company experienced quite a spark in sales in 2012 which he associates with the alarming number of personal attacks. In an interview, Mr. Torrence states the company's target market has been runners, college students, and anyone needing protection while on the go. However, the company has plans to partner with outdoor and sporting goods stores to place Run Safety on local shelves making it easily accessible and at a reasonable cost.
Run Safety has garnered many satisfied customers. All sharing the same personal testament of how the Run Safety pepper spray device saved their lives.
For additional information or view customer testimonials regarding the RUN SAFETY PEPPER SPRAY device, visit our website at http://www.runsafety.com.