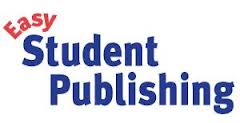 Englewood, CO (PRWEB) February 04, 2013
Creating even more first-time writers and publishers, Easy Student Publishing just made it easier for students to publish their first storybook or classbook with a new online payment processing. The new option allows teachers and parents to prepay for and repurchase books, to purchase multiple products from the same interface and simplifies the entire student publishing process.
Easy Student Publishing, online at http://www.studentpublishing.com, opens up a world of words and creativity for students ages 5 and up. Students have the opportunity to write and illustrate a book of their own, including an "About the Author" page. Easy Student Publishing prints and ships the books to classrooms, supporting literacy, writing and artistic programs in classrooms.
"When you make a student an actual published author, it creates a love of books, writing and words that can last a lifetime," said Kurt Henninger Community Manager, Easy Student Publishing. American operations. "We're pleased that we can now make it easier for teachers and parents to order books online and create the next generation of readers, authors and illustrators."
In addition to the new online payment option, which replaces previous purchase by mail or phone, Easy Student Publishing also provides a variety of resources for parents and teachers, an online demo of the book creation process, a young writers contest and more. To support its online outreach, the company will add a publishing option on iPads and tablets later this year.
"What does this project do for my students? It gives them a purpose for writing. It builds confidence as a writer. And it brings the families into the school for academic achievement to praise and honor their child's efforts in writing. The power of this project is amazing," said Terry Melancon, a third grade teacher at State Street School in Windsor, Vt.
About Easy Student Publishing
StudentPublishing.com is dedicated to providing special publishing opportunities to students and schools. Our mission is to support teachers with special projects that help inspire the writer in all students. We believe everyone has a story to tell and can learn the skills to tell it well. We also believe in the motivational power of teachers and strive to assist teachers in their endeavors to develop students to find their creative and expressive selves. At StudentPublishing.com we believe strongly in the power of publishing and are eager to help provide this experience for students. For more information, please visit http://www.studentpublishing.com/