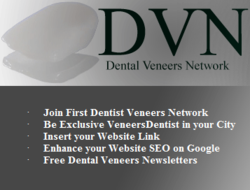 The first online dental portal specified to help patients locating best porcelain veneers professionals in North America
(PRWEB) February 05, 2013
Global Dental Network Ltd. introduces the first and only dental veneers portal dedicated to dental professionals and dental service seekers at the same time. Dental Veneers Network is the only comprehensive online encyclopedia that offers a wide variety of topics for individual consumer knowledge regarding dental services, dental problems and veneers. The website not only covers the needs of consumers, but also veneers dentists alike. An ongoing directory project Dental Veneers Network offers comprehensive and affordable solutions for dental clinics and professionals who would like to get professional grade listing for their online marketing needs.
Dental Veneers Network offers professional grade profiles and competitive marketing opportunities through their membership program. The profile includes local maps, contact details; clinic profiles and other important details that help consumers make informed choices about their dental professionals. With the increasing number of consumers seeking dental veneers, being able to access complete clinic profiles per state, county or zip code deeply increases their decision making on which specialist to select. The profiles are made accessible for specific target consumers within their city or locality while also improving the local search engine visibility for consumers to easily find them. By attaching the URL of the clinic's website or other pertinent sites, blogs, the company can generate additional traffic and potential local clients.
Membership fee
To avail of these unique benefits and an opportunity to generate additional traffic and potential clients, interested parties will have to pay an annual fee. The company offers additional perks by offering 2 months free for an annual membership. The annual membership allows the company to gain full benefits offered by Dental Veneers Network for 1 whole year. Adding the URL of the website greatly increases the backlinks of the company and helps boost its local rankings. dental professionals need to gain local prominence to stay competitive and since many consumers are already seeking professional services through the internet, online directories such as Dental Veneers Network offers a dedicated solution to help veneers dentists to become more exclusively visible in their own locality. The listings will be posted exclusively where the veneers dentist is located.
Dental Veneers Network also proudly offers a risk free service. Once the clinic has decided to purchase the annual membership, they need only to supply essential information about their clinic and services as well as contact details. No setup fees are required and the process of building the profile page is done professionally. On top of that, should dental clinics decide to end their membership, they can do so anytime should they take advantage of their monthly membership option. The monthly option is ideal for those who want to test the waters and see how online marketing can improve their prominence online.
This niche directory can provide dental professionals with new channels to generate new customers while maintaining solid connections with their existing clientele. With affordable, flexible and comprehensive solutions, Dental Veneers Network aims to help dental clinics to increase their prominence where it matters most.