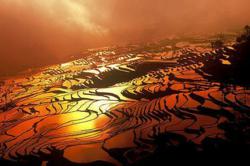 This is the perfect place to take photos of these gorgeous rice terraces. - Franciane
Chengdu, Sichuan (PRWEB) February 07, 2013
The best season to capture China's famous Yuanyang Rice Terraces and the Luoping Sprawling Flowers Farmlands starts now. WindhorseTour, a travel agency with over 10 years experience, organizes tours for their clients to Yunnan province in southwest China. They have recently released a new customized "Yunnan Photo Tour" to both of these places.
Yunnan is renowned for its pleasant climate and flowers blooming all the year; it is a region that never lacks beauty. Murphy, a Travel Adviser at WindhorseTour said, "The Yuanyang Rice Terraces and Luoping Farmlands have been selected because of their low popularity and pristine environment." One client Franciane said, "This is the perfect place to take photos of the gorgeous scenery."
The first tour is 7 days and takes client to Yuanyang, a beautiful county located in the south of Yunnan. The best time to visit here is from December to April, when the rice terraces are filled with water. This masterpiece from the ingenuity of the Hani people has been built linking each of the towns all along The Red River. For generations these wonders have impressed all travelers as they are set next to deep green forests, creating a magnificent view.
More awaits as people discover the cultural heritages in Jianshui ancient city. Renowned as the "Museum of Ancient Buildings", Jianshui still remains the traditional style of the original town which dates back 1,200 years ago.
The second tour begins with a visit to Luoping in Eastern Yunnan. This peaceful town is famous for the sprawling farmlands, a seasonal landscape which offers a spectacular scenery every year from mid February to late March. The boundless farmlands are covered in golden, yellow rapeseed flowers stretching as far as the eyes can see. Afterwards,clients continue in a private car to Yuanyang to see the rice terraces first hand.
Although these two tours are designed for those who crave photography, experience has shown that all travelers will have a memorable trip. "We do not want our clients to miss any beauty of Yunnan," Murphy said, "They have many choices when they are planning to travel to Yunnan, because it is a place filled with wonder." Please contact WindhorseTour.com for more information about these Yunnan tours or other trips to China.