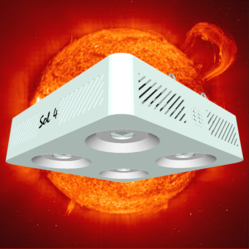 Sol gives us the ability to meet the needs of greenhouse customers who demand small form factors with high intensity coverage over large areas
Monroeville, PA (PRWEB) February 07, 2013
Sol LED Grow Lights are the next generation of LED Grow Lights, stated to be so incredibly bright that the only name to fit the product was the Spanish word for sun (sol). The revolutionary new concept of this product is to eliminate all light diminishing layers from LED Grow Lights, and streamline the chip manufacturing process to reduce costs and product bulk while increasing efficiency.
Traditional LED Grow Lights utilize a LED chip with a small acrylic lens bonded over the chip to help focus light. Modern LED Grow Lights take this a step further by using a secondary lens (acrylic or glass) over the primary lens to re-focus any light the primary lens was unable to direct. While acrylic and glass are great at shaping light, the downside is that each layer blocks up to 10% of the light from the chip. Many lower quality LED Grow Lights contain an extra layer of glass over the secondary lens, reducing light intensity by at least 20% compared to what the chip is actually emitting. Sol LED Grow Lights eliminate these light blocking layers, and instead use a custom-developed parabolic reflector to direct light.
Unlike a lens, a parabolic reflector goes around a light source rather than over it to direct light in a set dispersion pattern. The deeper and wider the reflector, the better light is able to be shaped by the reflector into its dispersion pattern. Standard reflector depths for 50-100W integrated LEDs like those used in the new Sol LED Grow Lights range from 11-18mm deep; however the new Fusion reflector used in Sol is a staggering 25.4mm deep, making it the deepest LED reflector on any multi-LED, LED Grow Light in the world. The fusion reflector also measures a full 113mm wide, making it not only the deepest but also the largest and most precise of any presently available for multi-LED, LED Grow Lights.
The reduced form factor and cost associated with the Sol design comes from the custom-developed 50W LED used in Sol LED Grow Lights. Conventional LED Grow Lights use many single LED chips with lensing spaced out on a circuit board, which requires that each chip be packaged and soldered separately of the others. The Sol integrated LED instead uses 32 chips bonded together on a thick copper plate using a high-precision machine, which reduces the form factor of the LED, requires only one LED package, and eliminates the time and labor needed to solder 32 LEDs individually. The copper plate also maximizes the flow of heat away from the chips, which is vital for performance and longevity.
The new Sol LED Grow Lights are presently under development by world-renowned LED Grow Light developers, Hydro Grow, in an effort to expand the company into commercial greenhouse lighting. The scheduled release date for the new lights is 3.31.2013; however customers who want to be the first to get one of these new lights are able to pre-order them now. "Sol gives us the ability to meet the needs of greenhouse customers who demand small form factors with high intensity coverage over large areas;" stated Cammie Mckenzie, CEO of Hydro Grow "however Sol is also perfect for the price-conscious consumer who wants high performance at a more affordable price-point than our Extreme models."
About Hydro Grow:
Hydro Grow, the leading provider of high-efficiency LED horticultural lighting solutions for commercial growers and agri-businesses, enables horticulturalists to reduce energy consumption over 50% while increasing operational efficiencies, crop yields, and hastening growth cycles. Hydro Grow offers third-party, data-proven solutions for greenhouses, indoor farms, research centers, and Universities which may be eligible for energy efficiency subsidies from local utility companies and government programs. The company's 3,000+ commercial and private customers include the USDA, DOE, and multiple Universities. Headquartered in Reno, Nevada, Hydro Grow is privately owned and operated. For more information call 1-661-654-9376 or visit hydrogrowled.com.