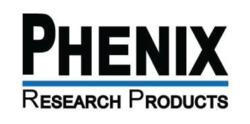 Phenix Research Products is excited to exclusively offer the new line of ultra low freezers developed by Z-SC1.
Candler, NC (PRWEB) February 06, 2013
Phenix Research Products and Z-SC1 offer new energy efficient, environmentally friendly ultra low freezers with an industry leading 3-year warranty.
These ULT Freezers will reduce operating costs, use less energy, produce a smaller CO2 output and are as quiet as your home refrigerator.
As energy consumption continues to be problematic in the US, laboratories are challenged with finding a solution for their massive energy needs (the main energy drain being from Freezers). Phenix & Z-SC1 offer a solution that both answers that needs and offers numerous other features that make Z-SC1 ultra low freezers an elite unit.
Phenix Research Products is excited to exclusively offer the new line of ultra low freezers developed by Z-SC1. This amazing new product was created by Z-SC1 in an effort to revolutionize the ultra low lab freezer market by cutting down on energy consumption and being environmentally friendly. Z-SC1 is the market leader in "green" refrigerants. Their new ultra low freezers not only have the lowest CO2 output of any units evaluated, but they are also one of the quietest units on the market. With a measured operating noise level of 48db, they are nearly as quiet as the common household refrigerator.
Z-SC1 new lab freezers have one of the slowest warm up times and fastest cool down times, offering up to a 55% reduction in electricity costs for laboratories. Z-SC1 ultra low freezers produce less heat than traditional ULT freezers, making them the perfect choice for laboratory use. The units feature a novel injected insulation that take up half the space and increases the insulation R Value by 145%. These slim ULT freezers feature a microprocessor PID digital controller with audible and visual alarms making them ideal for sample storage and maintenance. When selecting a new, or replacement lab freezer, it is essential to consider the impact that the freezer will have on the environment as well as lab costs.
Although constructed for guaranteed long-term use, these units come with an industry leading 3-year "Peace of Mind" Warranty (parts & labor) to ensure that they will perform to their maximum capability for a long span of time. These units are only available for purchase in the U.S. from Phenix Research.
Phenix Research Product's customer care teams and highly trained technical staff provide high-level customer service while they search the world for new effective products. Phenix Research is the best option for laboratory supplies offered at fair market pricing. PHENIX Research has been serving the life science research market since 1990. For more information, visit http://www.phenixresearch.com. For more information on Z-SC1, visit http://www.Z-SC1.com.