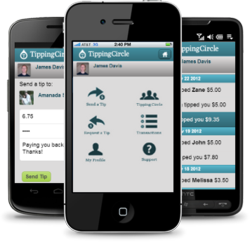 I've always wanted to create an online service that really makes a difference, and now I have!

- James Davis
Founder and CEO
(PRWEB) February 07, 2013
TippingCircle's mobile payment app makes it easy to exchange money with friends by connecting users with their social networks and PayPal. As more people stop using cash, there is a growing need for personal payments online. TippingCircle provides convenient apps--both mobile and desktop--that truly do make personal payments simple, social, and secure as they claim. The mobile app is designed to make it quick and easy to send money with just a few taps on iPhone, Android, Windows Phone 8, & Blackberry devices.
This new payment service is being embraced by social media users. It expands their social network with a payment profile that makes life more convenient through personal payments. TippingCircle has become a one-stop shop for various types of personal payment methods used online. Group payments and social fundraisers can be acheived using tipping buckets. These buckets can be shared through Facebook, Twitter, and other social networks to collect payments for birthdays, weddings, sports clubs, and other events. Social fundraisers are helping people pay for medical bills, contribute to local non-profits, and support other good causes.
"I've always wanted to create an online service that really makes a difference, and now I have!" said James Davis, founder and CEO. "In October we created a tipping bucket for my cousin who is still fighting through cancer treatments and surgeries. I was shocked to see the generosity of family and friends who pitched in thousands of dollars to help pay for the medical bills. I'm excited to be a part of this and I'm dedicated to make TippingCircle a solid and useful service that will help even more people around world."
Personal payment systems are quickly growing in popularity as people look for simple ways to send money to their friends online. Think of those times when it can be awkward to ask someone for money. TippingCircle adds a social spin to online payments making it easier and less bothersome to request money from someone. Simply send the request and the system will take care of the rest.
All payments are processed through PayPal making this a secure application with a global reach and a quick setup process, especially for people that already have a PayPal account. In addition to PayPal's security, TippingCircle uses advanced encryption, monitors fraudulent behavior, and each user has a 4-digit PIN that is required when a tip is sent.