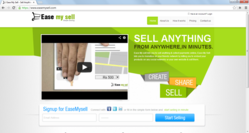 Sell Any Thing Online
Mumbai, India (PRWEB) February 07, 2013
Indian startup, "Ease My Sell," founded by Deepak Rahangdale & Ex-SingTel employee Gagan Randhawa, funded by Venture Capitalist Vishwajeet Sinha launched in December 2012 to make online selling easy for users who wish to sell their products online. "Ease My Sell" now provides merchants the facility to create invoices online and get email notifications, when the client pays by credit cards, debit cards or Internet banking.
"Ease My Sell" allows its users to quickly take their products online for sales. Users just have to provide minimum information about their product like a picture, description and price. Also it lets users to see a virtual "product banner" which can be embedded on Facebook or any website to monetize the web traffic.
Selling Digital Goods : Digital goods can be uploaded and sold through "Ease My Sell". It allows sellers to upload MP3, Music, E-books, Videos, Presentation, tutorials and other files for sale. More importantly, users can bundle digital and physical goods together and sell. For example, a Web designer can sell web template, A Music Band can sell its music album or an Author can sell a physical copy of his new book and also provide digital version of the book, so that a buyer can download and read it.
One Click Setup: Users can set up a virtual product store, as per their choice.
"EaseMySell "provides wide variety of templates and design to set-up a virtual store. Users need to just upload an image of their product or services along with a description and price. Users can specify whether the product listed is a physical, digital or a combination of both. Users can make the virtual store LIVE just by pressing "PUBLISH" button.
Users are provided with a special Link, to share their Virtual Store among their friends and colleagues via Facebook or any other website. Users can retrieve the buyer's queries and transaction details from the dashboard provided in their "Ease my Sell" account.
Online Invoice Creation: The Newly introduced feature of "Ease My Sell" makes invoicing simple for its users. Users can create invoices online, send it to their customers via email. Clients can view invoices online, see the outstanding, and download a PDF or printed copy on the Invoice. They can even pay invoices by credit card or Internet - banking. Transactions on Ease my Sell are secured via HTTPS connection.
"Ease My Sell" is trying to bridge the gap between complex and expensive e-commerce store solutions and online classified websites. With "Ease My Sell", anyone can sell anything online, from any website or social network. "Ease My Sell" charges no hosting and set up fees, sellers only need to pay "Ease My Sell" convenience charges of 5% of the transaction value.
Feel free to create an account on "Ease My Sell" on its website, or reach out on Twitter or Facebook.