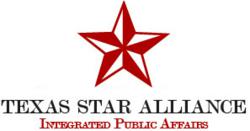 Chris' experience and in-depth knowledge of energy policy issues make him a valuable asset around the Texas state capitol. John Pitts, managing partner, Texas Star Alliance
Austin, TX (PRWEB) February 06, 2013
Capitol Inside recognized Texas Star Alliance principal Chris Hosek as a "Rising Star" on its 10th annual Texas Lobby Power Rankings. The highly regarded annual list, now in its 10th year, also recognized Texas Star Alliance's dynamic lobby team as the seventh best lobby group in Texas.
"Chris' experience and in-depth knowledge of energy policy issues make him a valuable asset around the Texas state capitol," said John Pitts, managing partner of the Texas Star Alliance. "I have worked with Chris since his first days working in the Texas House of Representatives and am not surprised that he has garnered an impressive list of energy clients who rely on his savvy, contacts, and integrity above all."
Hosek specializes in lobby work for energy, water, and natural resources companies. His clients range from innovative Texas energy water recyclers to multinational energy producers operating in Texas. He helps his clients with a wide range of issues, including legislative policy, regulatory matters, and strategic communications.
Capitol Inside also ranked John Pitts sixth overall on the Power List for his "institutional acumen" and successful formation of Texas Star Alliance. Under the leadership of Pitts, who founded the firm in 2010, the Texas Star Alliance team has quickly grown to include 14 principals with diverse, across-the-board experience representing a broad spectrum of clients and issues.
Capitol Inside stated "…the most compelling factor behind the elevation of Pitts into the top 10 is the new role he's assumed as the founder and leader of a relatively large lobby team known as the Texas Star Alliance. Pitts' new group is loaded with young muscle with expertise on a wide range of major issues..."
About Chris Hosek
Chris Hosek is a principal of Texas Star Alliance, specializing in direct lobbying and state agency relations. Chris has experience with a broad range of legislative issues and policy initiatives including specific expertise in the energy sector. For five years, Chris served as the chief of staff to the former Chair of the Railroad Commission of Texas, Elizabeth Ames Jones. The Railroad Commission is the regulatory body that oversees Texas' energy industries including all levels of the oil and gas industry, pipeline safety, gas utility rates and the permitting and reclamation of coal and uranium mines.
About Texas Star Alliance
Texas Star Alliance integrates legislative advocacy, legal protection and strategic communications to create public policy success for our clients. Based in Austin, we specialize in direct lobbying, state agency relations, administrative rule-making, coalition building, strategic communications, media relations, social media and more. We address our clients' complex public policy challenges with sophisticated, integrated services that are more effective – in outcomes and costs – than traditional methods.