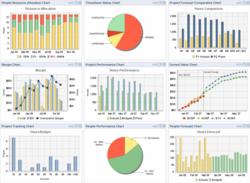 Dulles, VA (PRWEB) February 12, 2013
Unanet, a developer of services automation software that helps project-based organizations manage people and projects for improved profitability, has announced the availability of the latest version (1.2.8) of its integration with Microsoft Dynamics SL.
This second generation interface provides comprehensive integration between Unanet's market-leading Professional Services Automation solution and Microsoft Dynamics SL financial management system.
Unanet's solution provides initial opportunity planning and resource forecasting, through detailed budget planning and staff scheduling, time and expense capture, and real-time reporting. Microsoft Dynamics SL is a project and financial accounting solution specialized to help organizations obtain revenue recognition, invoicing, financial reports and business analysis, while helping increase efficiency, accuracy, and customer satisfaction. Organizations which have adopted the integrated Unanet-Microsoft Dynamics SL solution include IT consulting firms, research groups, non-profits, and government contractors.
A natural fit to Unanet's extensive Professional Services Automation software, the integration with Microsoft Dynamics SL empowers organizations to view project profitability, revenue, expenses and financials in one place, giving management greater visibility into project and workforce performance. The integration ensures a single point of entry for data on projects and people with no duplication of effort, with automatic replication between Unanet and MS Dynamics SL to ensure data integrity between the systems.
The new version of SL Connect extends the product in the direction of greater configurability and increased flexibility in order to meet and exceed clients' specific integration needs.
SL Connect 1.2.8 includes the following highlights:

Additional data fields can be transferred from an SL Project to a Unanet Project.
Fields can be transferred from the SL Position/Rates screen to a Unanet Person.
New option for configuring the extraction of Project Labor Categories.
New options for determining Unanet Labor Cost Elements based on SL data.
Added more options for configuring the Expense Approver and Time Approver.
Enhancements related to approval groups when managers leave.
Provided two new queries of historical timesheets.
Steve Bittner, Unanet's Vice President of Professional Services, commented, "SLConnect unleashes the combined power of Unanet and Microsoft Dynamics SL by tightly coupling the two systems. SLConnect eliminates the need for manual synchronization and through its robust configuration it provides a variety of options to our customers."
About Unanet
Unanet provides superior Services Automation software which maximizes staff utilization, reduces administrative costs by 90%, improves invoicing by 10X, and supports forward decision-making for improved profitability. Unanet's more than 950 customers include government contractors, consulting/services organizations, internal IT (Information Technology), and high-technology product companies. Unanet's suite includes resource management, opportunity/project management, timesheets, expense reports and collaboration with real time information and analytics, project costing, billing and revenue recognition. With easy to use interfaces, and outstanding support. Unanet is available either as an Enterprise license (self-hosted software), or an On Demand License (Cloud).