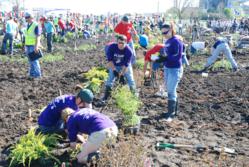 I would be surprised if there were any college students in landscaping and horticulture who couldn't find a job in our industry after they graduate.
Herndon, Va. (PRWEB) February 06, 2013
Eight hundred college students from 60 of the nation's top horticulture and landscape programs will be competing in the 37th annual Student Career Days, The National Collegiate Landscape Competition, to be held March 7–10 at Auburn University, in Auburn, Ala. Student Career Days is an opportunity for these students to test their skills in real-world exercises based on the design, build and care for landscapes across the country (last year's top placing schools included BYU, Cal Poly, and Michigan State).
Student Career Days is also a prime recruitment event, where prospective students meet with some of the nation's top landscape companies and equipment manufacturers.
"There is incredible competition among the bigger companies to hire the high-potential college graduates from the landscape and horticulture programs," said Kory Beidler, technical training manager from BRICKMAN, who has attended Student Career Days as both a student competitor and company recruiter. "I would be surprised if there were any college students in landscaping and horticulture who couldn't find a job in our industry after they graduate."
Organized by PLANET, the national trade association for landscape professionals, Student Career Days is an annual three-day event designed to help build careers for college students. This event is the "Olympics of landscaping," where students compete in 28 different individual and team events directly related to the skills necessary for a career in the industry, including 3-D landscape design, irrigation techniques, hardscape installation, plant identification, and business management.
The event is not only competitive for the students, but also for the 50 companies that participate, including Bartlett Tree Experts, BRICKMAN, Caterpillar, STIHL Inc. and many others who travel from around the country hoping to attract the nation's top prospects.
A recent informal PLANET survey of professors of college horticulture and landscape programs showed that more than 90 percent of students graduating from these programs had jobs waiting for them. Many programs, like Auburn University's, have a job placement rate of 100 percent.
Also during Student Career Days, 68 scholarships worth $74,300 will be given to students by the PLANET Academic Excellence Foundation (PLANET AEF).
This year's Student Career Days major sponsors include STIHL Inc. at the Platinum level; JOHN DEERE at the Gold level; Caterpillar Inc., Gravely, an Ariens Company Brand, and New Holland Construction at the Silver level; and BRICKMAN, Husqvarna, Old Castle Architectural, Inc., and Pavestone at the Bronze level.
For additional information on Student Career Days, visit the http://www.studentcareerdays.org website or call the PLANET office at 800-395-2522.
PLANET is the national trade association representing more than 100,000 landscape industry professionals, who create and maintain healthy, green living spaces for communities across America. PLANET members are committed to the highest standards in industry education, best practices, and business professionalism. Many of PLANET's professionals have attained the status of becoming Landscape Industry Certified, achieving the greatest level of industry expertise and knowledge. Visit PLANET at http://www.landcarenetwork.org.
# # #