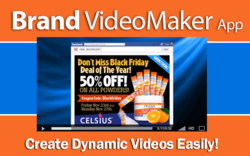 "Videos in the Facebook News Feed capture attention and boost engagement" said TabSite co-Founder, Troy Rumfelt.
Indianapolis, IN (PRWEB) February 06, 2013
TabSite (http://www.tabsite.com) the industry leader in Facebook fan page marketing apps, today announced a new solution for creating custom Facebook videos. The new tool is designed to help social marketers reach fans via the Timeline news feed and create heightened levels of fan engagement; driving traffic and increasing business exposure.
TabSite's new Brand VideoMaker Engagement App for Facebook enables Page Admin's to create short, engaging videos from images and slides that are compiled and published to Facebook. With the news feed being the dominant place fans engage with a brand page, custom videos published to the news feed increase the messaging and social communication a brand can have with a fan. For example, a brand can create a new product video with the Brand VideoMaker App to give fans a much more in-depth and immediate overview than a simple picture or text post could ever offer.
The Brand VideoMaker app is available to announce special discounts, showcase upcoming events, increase awareness of contests and sweepstakes, as well as elevate visibility of any promotions on a Facebook Page. The videos can be added to a custom tab on the brand page, where multiple videos can be displayed and easily shared by fans to others with integrated social network sharing tools. With video continuing to increase in use and offer high engagement rates by fans, TabSite is the first page app developer to release a video builder app.
With multiple options for backgrounds, music, slide transitions and ability to preview before publishing, the Brand VideoMaker app offers great flexibility and ease of use, making the video creation process accessible to all businesses globally.
"We recognize that a valuable way to increase engagement is through customized brand experiences to reach fans where they are, on mobile devices in the news feed, and our mission is to build and launch socially engaging tools accomplish this," said TabSite co-Founder, Troy Rumfelt. "We will continue to roll out new features that leverage market trends and shifts in consumer behavior."
As one of the early developers of social marketing tools for Facebook, TabSite empowers businesses with the latest tools and technologies. With TabSite, there are no fan limits. Businesses of all sizes have access to a comprehensive suite of solutions, from complete design control and fully integrated social sharing to engagement apps and custom language tools.
ABOUT TABSITE
Founded in 2010, TabSite was established to meet the growing demands of digital marketers seeking to leverage Facebook. The company's suite of custom content solutions and social engagement applications inspire fan participation, drive traffic and increase business exposure among thousands of businesses, agencies and partner affiliates worldwide. For more information on TabSite, please visit http://www.tabsite.com.
# # #