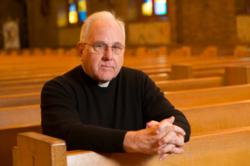 You need to make residents feel that they have a personal stake in the quality of their surroundings, and home ownership creates this feeling," says Father Bob.
Camden, N.J. (PRWEB) February 07, 2013
Although Camden, NJ, takes repeated knocks from the media because of poverty and crime rates, one "feel-good" story remains hidden, except for 930 families who know a secret.
It's the impact of St. Joseph Carpenter Society (http://www.sjcscamden.org).
Through its unique program that includes homeowner education, housing development and community organizing, residents, who would be otherwise unable, are finding the path to home ownership. This is constructing a new East Camden with safe neighborhoods and increased property values.
The Carpenter Society began in 1985 when a Camden resident and parishioner of St. Joseph's Pro-Cathedral came to his pastor, Msgr. Robert T. McDermott, and shared his dream of owning a home. He asked McDermott, also known lovingly as Father Bob, if the church could help him. While this request was unusual for the Camden-born pastor, he offered to help make that dream a reality.
Father Bob started by finding the parishioner financing with a lower-than-average interest rate, buying an abandoned building and finding tradesmen to renovate it at reduced cost. Before they knew it, this parishioner was a homeowner. Father Bob recalls thinking: "That was easier than I thought." Within a year, he formed the Saint Joseph's Carpenter Society to promote home ownership. Father Bob understood a fundamental truth about improving a neighborhood. "You need to make residents feel that they have a personal stake in the quality of their surroundings, and home ownership creates this feeling," says Father Bob.
Father Bob had a basic idea. Camden is filled with houses that are abandoned, dilapidated or just plain cheap compared with the surrounding county. These buildings can be purchased, renovated and sold at a very low cost to Camden residents with the same dream. Buy and sell one house after the other and in a short time you have a brand-new, thriving neighborhood. The numbers prove this simple idea has been a runaway success. The organization has renovated more than 900 homes and sold or rented them to families, turning East Camden into a safer, nicer place to live.
The key underpinning to the program is homeowner education. Rather than just offering low-income housing, the Carpenter Society educates each new candidate in life skills classes that relate to home ownership, including Basics of Money Management and Homeowner Education and home repair and safety principles. After acquiring these skills, applicants are better prepared to be responsible, successful homeowners. The education classes are vital. They have contributed to a 91 percent retention rate by the original owners and a miniscule 2.3 percent default rate.
"There are responsibilities associated with home ownership and these classes reinforce that message," says Mark Hodges, executive director of The Joseph Fund, which provides financial support for the Carpenter Society. For nearly 30 years, Father Bob and the Carpenter Society have been shaping a new East Camden with safer walks to school and a happier, safer community. East Camden has slowly become a nice place to live and to raise a family."
Founded in 1892, the Parish of St. Joseph has been a spiritual haven for Camden residents for more than a century. Father Bob was a member of this parish as a boy. His family was close with the church and its leadership. This experience led him to becoming a priest. In 1985, he requested a transfer to St. Joseph's to lead the Parish where he grew up. Father Bob saw it as his greatest opportunity to do good works and help those in need, as well as give back to the community that shaped his own life.
###