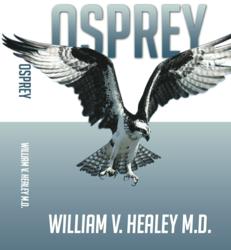 San Antonio, Texas (PRWEB) February 07, 2013
William V. Healey M.D. explores the idea of using murder as a method of international politics in his novel, "Osprey."
Dr. Healey takes the reader on a thrilling journey into the dark side of politics and the consequences of countries no longer cooperating and insisting on using violence. "Osprey" follows an intriguing storyline across several countries where two enemies plot to assassinate the President of the United States.
Unlike many exaggerated medical details in similar novels, Dr. Healey's medical background and expertise ensure accurate and intriguing medical descriptions. This thoughtful medical murder mystery is not only accurate, but also filled with fast paced activity.
On a deeper level, Dr. Healey also digs deep into the struggle of a virtuous character and how difficult it can be to maintain one's integrity in demanding circumstances. "Osprey" examines the consequences of unethical actions on a larger scale.
Instead of relying on sensationalism and gore, "Osprey" offers a thought provoking and intriguing look on a political murder mystery. It questions the continued use of violence in international conflicts and if a peaceful resolution of controversial world issues is possible.
"Osprey"
By: William V. Healey M.D.
ISBN: 978-1-4797-1884-9 (sc); 978-1-4797-1885-6 (hc); 978-1-4797-1886-3 (e)
Hardcover: $29.99
Softcover: $19.99
Ebook: $3.99
Available at http://www.barnesandnoble.com and http://www.amazon.com
About the Author
William V. Healy M.D. is a retired general surgeon and medical consultant. Dr. Healey is a native New Yorker but currently lives in San Antonio, Texas, with his wife of 35 years. He received his B.A. from Princeton University and his medical degree from Columbia University. His medical career included active duty in the U.S. Navy. Dr. Healey has been published in several journals and on the Op-Ed page of the Wall Street Journal. For more information on Dr. Healey, visit http://www.drosprey.com.
###