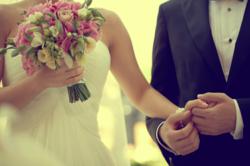 Newport Beach, CA (PRWEB) February 07, 2013
While the wedding industry is saturated with services for typical American weddings, Wedding.com has noticed a sharp increase in multi-cultural affairs in recent years. In fact, unique combinations of traditions are now very much commonplace.
The current widespread trend in weddings is to mix two or more cultural traditions for one smorgasbord celebration. One bride in Vermont makes for a perfect example as she prepares for her Middle Eastern wedding with plans of incorporating American traditions as well (http://www.7dvt.com/2013one-vermont-bride-plans-jordanian-wedding-feast). Even wedding vendors are responding to this growing group of clientele by offering more, whether it be menu options inspired by other countries such as Vietnam or China or clothing as extravagant as Indian saris.
"It is not uncommon to see two very different cultures cleverly fused together during a wedding celebration," says Brett Reynolds, CEO of Wedding.com. "Wedding vendors, especially, have recognized the trend, and many have quickly moved to gain a competitive edge by learning about new cultures and tailoring their services to meet the new demands."
For more information about Wedding.com, please visit http://www.wedding.com.
About Wedding.com
Wedding.com is an innovative new website that connects engaged couples planning their wedding with wedding vendors looking to grow their business. Wedding.com contacts vendors for couples, giving them the power to compare and negotiate while ultimately saving time and money. With 11,000 couples and 20,000 vendors currently
using the website, 87,000 proposals have already been sent since their inception. Vendors range in services from wedding planners, photographers, florists, and DJs to
custom invitations, party favors, and much more. For additional information about the company and its services, please visit http://www.wedding.com.