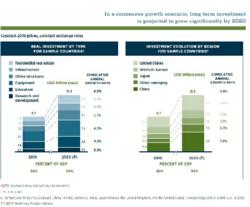 Major changes are needed in the ways in which the global financial system is configured in order to meet growing long-term capital needs efficiently and sustainably.

London (PRWEB) February 11, 2013
"Far-reaching reforms in the international financial system will be needed to ensure that rising demands for long-term capital can be met efficiently. A major conclusion of a new Group of Thirty report today is that if reforms are not undertaken then we will likely face significant shortfalls in finance in coming years. This is critically important given that we know that the world needs to invest in infrastructure, education, R&D, housing, and business expansion in order to meet even moderate consensus growth forecasts," stated Mr. Jean-Claude Trichet, Chairman of the Group of Thirty and former President of the European Central Bank.
Mr. Trichet noted, "The G30 landmark report, Long-Term Finance and Economic Growth, examines critical constraints on the supply of long-term finance and calls for reforms that can strengthen the flow of capital into long-term investments by governments, institutional and individual investors. Action is needed because the prospects for efficiently securing adequate long-term finance have been reduced by turbulent economic conditions that we have confronted in recent years, including fiscal consolidation, bank deleveraging and the requirements of new banking regulations."
Dr. Guillermo Ortiz, Chairman, Grupo Financiero Banorte of Mexico and former Finance Minister of Mexico, who chaired the G30 steering committee that developed today's report, emphasized at a press conference that, "Major changes are needed in the ways in which the global financial system is configured in order to meet growing long-term capital needs efficiently and sustainably. We underscore in our report the need for international and national financial regulatory bodies to develop new approaches that can ensure that investors are better able to take a long-term horizon in their investment decisions."
The G30, the international forum of public and private sector financial leaders, drew on research undertaken by the McKinsey Global Institute in its report, which found that long-term investment in nine major economies, which combine to account for over 60% of global GDP, totaled US $11.7 trillion in 2010. Annual demand on long-term investment in these countries—the United States, the United Kingdom, Germany, France, Japan, China, India, Brazil, and Mexico— could grow to around $18.8 trillion by 2020.
The report, produced by a G30 Working Group, was led by a steering committee chaired by Dr. Ortiz, with Mr. Tharman Shanmugaratnam, Deputy Prime Minister and Minister for Finance, Singapore, Lord Adair Turner, Chairman of the UK Financial Services Authority, and Dr. Axel Weber, Chairman, UBS.
Dr. Ortiz stated, "We encourage the authorities to create new instruments to boost savings that can be channeled into long-term investments. We are proposing approaches that strengthen the ability of the public sector to leverage private sector capital for long-term financing, including greater use of public-private partnerships and the creation of new dedicated long-term financing institutions. And, we explicitly address supporting the flow of cross-border capital, which is essential if emerging market economies are to raise sufficient long-term capital for their needs. For example, we anticipate that China alone will account for roughly half of the total increase in long-term capital in our sample of nine major economies by 2020."
Deputy Prime Minister Tharman stated that, "Two facts are clear today - there is an abundance of liquid savings still on the sidelines, including pension funds looking for much-needed yields; and there is at the same time no lack of global need for real-sector investments to spur economic growth. What is critically needed therefore is stronger bridges between global savings and long term investment. Our report proposes a series of reform measures, including strengthening the legal and regulatory infrastructures needed for deeper capital markets in the emerging economies, and for governments and multilateral institutions to develop instruments to mitigate the risks involved in long-term investments."
Deputy Prime Minister Tharman added that "We also recognize the risks posed by volatile, short-term capital flows. We believe policy makers should move gradually toward liberalization of capital accounts in emerging markets, while using appropriate macroprudential policy tools to avoid bubbles in asset markets and promote financial stability."
Lord Adair Turner stated at the press conference: "Some of our proposals are challenging or contentious, and would take time to implement. But their merits should be assessed carefully, given the importance of actions that explicitly strengthen the supply of long-term finance. For example, we are proposing that the Financial Stability Board explore the feasibility of new regulatory and accounting treatments for assets held with long-term horizons to avoid excess focus on short-term market volatility."
He also pointed out that, "We recommend that national authorities, as well as the FSB, propose new best-practice guidelines to promote long-term horizons in the governance and portfolio management of public pension funds and sovereign wealth funds. For example, incentive pay could be reconfigured to ensure a focus on longer-term returns. Portfolio managers' bonuses could be conditional on their performance over a defined period, for senior managers, a minimum of three years. This would support the goal of making smart medium-term asset allocation decisions in the context of a long-term investment horizons."
Dr. Weber emphasized: "Looking ahead, when taking action policy makers should also continue to review the broader systemic and macroeconomic impact of regulatory changes on the future supply of finance to support long-term investment. Targeted regulation can support and promote long-term financing. However, the inherent complexity of regulation, across different financial sectors and geographies, engenders the potential for inconsistencies and conflicts among rules. This may produce unintended consequences that are counterproductive to our goal of broad based sustainable economic growth in the future."