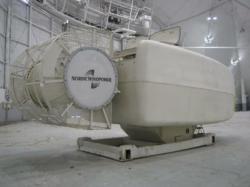 Houston, Texas (PRWEB) February 08, 2013
Tru-Markets is offering the market an unused 2012 Nordic Windpower N1000 Wind Turbine Nacelle and Hub that is available from an insurance claim in an online sealed bid auction. The sale will take place at http://www.tru-markets.com and closes on February 27, 2013.
"This is a great opportunity for a company to repower or replace an existing unit," explains Chad Farrell, Managing Partner at Tru-Markets. "We are pleased to be able to offer this unit to the wind power market."
According to the American Wind Energy Association, the U.S. wind energy industry had its strongest year ever in 2012, installing a record 13,124 megawatts (MW) of electric generating capacity, leveraging $25 billion in private investment, and achieving over 60,000 MW of cumulative wind capacity.
In addition, companies that generate wind energy are eligible for a Production Tax Credit (PTC), which provides a 2.2-cent per kilowatt-hour (kWh) benefit for the first ten years of a renewable energy facility's operation. In January, the U.S. Congress extended the PTC for wind and included an important new provision that allows wind and other eligible renewable energy projects that begin construction in 2013 to qualify for the credit.
Wind Power Development Companies, Wind Turbine Rebuilders, Remanufacturers, Refurbishers, and Turbine Dealers and Brokers are invited to bid on the Nordic Windpower Turbine located in Kansas City, Missouri. Interested buyers can view high-resolution photos, get detailed information, and register to bid online in the auction at http://www.tru-markets.com. Anyone interested in the salvage turbine can inspect the unit prior to the auction. Registration is free; buyers can place bids online, and receive convenient email alerts when new bids are added to the Tru-Markets marketplace.
Tru-Markets offers energy equipment buyers the tools to make buying simple and easy. All bids are placed online via a computer or mobile device located anywhere in the world. The sealed bid auction system provides real-time feedback on bids and during the final minutes before each auction lot closes - the lots are automatically refreshed to give a second-by second countdown. Auction end times are extended if bids are placed in the last few minutes and are designed to give every buyer an equal opportunity to purchase regardless of computer speed or internet connection. A watchlist delivers a list of auction lots for tracking open, closed, won, and lost lots.
Those interested in the February 27th auction can visit http://www.tru-markets.com for more information on the wind turbine and instructions on how to register for the event.
About Tru-Markets
Tru-Markets is an online marketplace for buyers and sellers of salvage and surplus equipment. Tru-Markets focuses on the investment recovery needs of Fortune 500 companies and acts as a salvor for major insurance underwriters. Tru-Markets specializes in insurance salvage which includes the salvage sale of goods for marine claims, cargo claims, and property claims via salvage auctions.
To schedule an interview with Chad Farrell, please contact Tru-Markets at (855) 879-8786. For general information, please visit http://www.tru-markets.com.