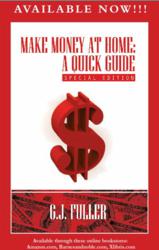 Los Angeles, California (PRWEB) February 09, 2013
With the rising costs of food, gas, and shelter, many people are struggling to get by in today's economy. They are lucky if they can pay their bills. Overnight success stories like Justin Bieber, are rare, and ordinary people living on a budget are looking for hope.
Well, hope has arrived, in the new book 'Make Money at Home: A Quick Guide,' by G.J. Fuller! In this ground-breaking new book, Fuller levels the playing field, and gives people the information they need to increase their income!
In a time where prominent figures such as Oprah Winfrey and Bill Gates have become examples of wealth and material success, this book evens the odds, and gives ordinary people a blueprint for success and financial freedom.
"What makes this book special is that it can help everybody. Whether you want to increase your income, get out of a financial jam, need a loan, need to pay bills, or are just looking for hope, 'Make Money at Home: A Quick Guide,' will help you." - The Ridgewood Gazette
Special book tours are planned for Los Angeles, New York, Dallas, and Miami. Get your copy today!
Author G.J. Fuller is certified in marketing management, and has successfully written other books, such as the popular true crime novel Lady Lawbreaker.
This press release is issued by Today's News Organization, an online group that provides current news to the public.
For more information, you can find Today's New's website here:
http://todaysnews.ebookvillage.net/
TITLE: Make Money at Home: A Quick Guide, Special Edition AUTHOR: G.J. Fuller
DATE OF PUBLICATION: February 6, 2013
Softcover - 98 pages: ISBN: 978-1479780242 , PRICE $10.00. Available at Amazon.com AND Barnes and Noble (bn.com)