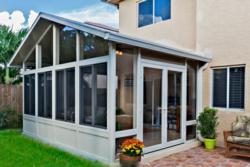 Even an economy sunroom or affordable patio room can be made to look like it belongs.
MIAMI, Fla. (PRWEB) February 08, 2013
Additions such as sunrooms and patio enclosures can work in harmony with the architecture of existing homes, says Christopher Noe, president of Venetian Builders, Inc., Miami. Noe shares tips for homeowners who want to achieve architectural harmony when adding on.
"It's not absolutely necessary to fuss over architectural harmony when adding a space," Noe said, "but we believe a well-matched addition looks less like a room that's just tacked on. Even an economy sunroom or affordable patio room can be made to look like it belongs."
Each Venetian Builders project is custom-designed to fit the house it expands, Noe says.
To achieve architectural harmony, Noe suggests the following:
Collect designs you like. "Save photos from publications or blogs when you see rooms that would look good on your house," Noe says. "Keep a folder for paper photos, or scan paper photos into your computer and keep the images in a digital folder. You can find scores of downloadable sunrooms and screened enclosures online in the Venetian Builders, Inc., gallery."
Think proportionally. "A giant addition might visually overwhelm a small house, and a tiny room might look out of place on a sprawling, newer home," Noe says. "Of course, you're building living space, and only you know how much space you need."
Blend shapes. "A two-story home or a house with a steeper roof pitch can probably better handle a tall sunroom or patio room," Noe says. "A ranch home may be better off with a more horizontal sunroom or patio enclosure design, and maybe even a shed-style or relatively flat roof."
Consider window aesthetics. "Try to match sunroom or patio room window styles with windows on the house," Noe said. "The windows in the perfect sunroom don't have to be the same size as on your house, but they're more harmonious if they have similar proportions, lites and trim. Remember, you want harmony inside your home, too, not just outside."
Continue roof lines. "For the ideal effect, continue an existing roofline," Noe says. "If you can't do that, try to match or approximate roof pitch. We've even done a sunroom with bays to match existing architecture."
Match roof materials. "Many Venetian Builders customers ask us to match roof tiles or shingles," Noe says. "The results are stunning."
Venetian Builders, Inc., builds West Palm Beach sunrooms, Davie patio enclosures, Miami patio covers, Hollywood screened pool enclosures and custom-designed aluminum additions there and in Weston, Wellington, Stuart, Miami Gardens, Miramar, Homestead, and all communities in between. Venetian builds in a wide range of styles and prices.
Estimates are free, written and detailed.
For more information call 866-596-2427.