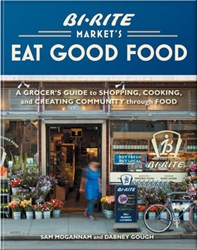 I predict that when Bi-Rite opens in March neighborhood history will have two epochs: BB (Before Bi-Rite) and AB (After Bi-Rite).
San Francisco, CA (PRWEB) February 11, 2013
2013 will see some exciting additions in The Panhandle neighborhood that may seem like small potatoes to observers but will be watershed moments, according to Sean Sullivan, Senior Sales Leader with Climb Real Estate. It started back in 2005 when restaurant called NOPA opened on the corner of Divisadero & Hayes that spawned the gentrification of an entire neighborhood. Eight years later NOPA is transformed, continuing to change and adapt.
Game Changer #1: Bi-Rite opens. Bi-Rite is a San Francisco based purveyor of gourmet foods. The original shop is in Mission Dolores, another neighborhood that has changed dramatically. Sullivan predicts that when Bi-Rite opens in March 2013 neighborhood history will have two epochs: BB (Before Bi-Rite) and AB (After Bi-Rite).
Game Changer #2: Protected bike lanes on Oak and Fell. SF Bicycle Coalition has worked with the MTA and neighborhood residents for years to get protected bike lanes separated from traffic on these busy arterial streets. When the lanes are completed, The Wiggle bike lane will connect to The Panhandle bike lane creating a safe, contiguous bike route from Ocean Beach to downtown. With NOPA and Divisadero smack in the middle I expect a lot of commuter cyclists will stop at Bi-Rite to pick up some dinner on the way home or stop to eat and drink at the many bars and restaurants popping up. Now that's urban living.
About Sean Sullivan San Francisco Real Estate Agent
Sean Sullivan, real estate agent and Senior Sales Leader at brokerage Climb Real Estate Group is known for his expertise in the complex San Francisco market, including new construction, where he got his start in 2000.  He has seen several market cycles, which helps him refine how he assists different types of clients. Sean Sullivan can be contacted at 415-215-0554, Sean(at)climbsf(dot)com. Please visit his website at: http://sfresource.com.
This press release is provided by: Express Yourself Websites