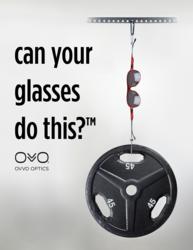 "I have been able to change people's outlook on eye wear and have it become a part of their wardrobe versus just having frames for function," said Shaun Pescador, who has worked with 20/20 Optometry for the past 12 years.
San Jose, Ca (PRWEB) February 11, 2013
Bay Area optometrist Dr. Jeanette Lee of 20/20 Optometry has consciously decided not to sell designer brands that are readily available at many of the retail stores at the malls because the stores are all owned by the world's largest eye wear manufacturer, Luxottica. Many consumers purchase eye wear from brands such as Ray Ban, Oakley, Chanel, Prada, Coach and Burberry unaware that the eyeglass frames are in fact constructed and distributed by the same Italian mega retailer Luxottica. 20/20 Optometry choose to support exclusive companies that produce unique styles in quality eyewear.
Dozens of popular fashion houses, including Dolce & Gabbana, Tiffany, Fendi, Vogue and Ralph Lauren enlist Luxottica to produce the frames sold in thousands of department stores and boutiques worldwide. Luxottica also owns retail stores such Lens Crafters, Pearle Vision and Sunglass Hut. They sell their eyewear at those stores and also produce all the eyewear sold in Target and Sears stores.
"I grew up wearing Ray Ban and Oakley sunglasses in Hawaii. I worked at Sunglass Hut for years and noticed a decrease in quality and craftsmanship in Ray Ban and Oakley frames after Luxottica purchased the companies," says Shaun Pescador, 20/20 Optometry's frame buyer. "That is why our office stopped selling Oakley frames. I did not feel that the quality of the frames lived up to the quality I associated with the brand. In my opinion, Luxottica frame products look like the same frame styles but with different logos on the frame."
20/20 Optometry strives to deliver quality frames to fit the aesthetic and functional needs for anyone in need of vision or eye care. The popular Bay Area optometry center wants to keep its inventory diversified and works closely with non-retail based frame vendors to ensure patients receive the finest, most durable and uniquely stylish frames.
The vision care office provides free consultations from an eyewear stylist to help the client find the proper frame to fit their unique face shapes, skin tone, and lifestyle needs. The office also carries specialty frames for Asian fit eyewear such as TC Charton.
"I have been able to change people's outlook on eyewear and have it become a part of their wardrobe versus just having frames for function," said Shaun Pescador, who has worked with 20/20 Optometry for the past 12 years.
"I enjoy mixing fashion with function to fit the lifestyle needs of my patients. Many of my patients have an eyewear wardrobe in which they can match their eyewear to what they are wearing that day or to the activity that they are doing, similar to how people wear shoes."
For lifestyle needs, 20/20 Optometry also offers glasses for cycling, shooting, and golfing, and even carries durable frames with tensile strength that can hold over 45 pounds in weight.
Some of the brands carried at 20/ 20 Optometry include: Porsche Design, Gucci, Zero G, Dilem, Carbon fiber by Lightec, OVVO Optics, Rudy Project and TC Charton (Asian fit eyewear). Each of these brands have a high standard of excellence and serves unique functions and tastes.
For more information about products and services offered by 20/20 Optometry of Silicon Valley, visit 2020eyesonline.com or become a fan on Facebook at facebook.com/2020optometry. 20/20 Optometry is located at 2555 North First Street in San Jose.
About 20/20 Optometry of Silicon Valley:
20/20 Optometry of Silicon Valley is a Bay Area optometry office located in the central part of Silicon Valley. Since it opened in 2000, the office has continued to grow because it meets the needs of its patients and provides customer service as one of its strongest attributes. During an eye exam, 20/20 Optometry's eye doctors are trained to address the cause of patients' eye-related problems, and not just the symptoms. The doctors can treat allergies, infections and various eye diseases. They design specialty computer eyeglasses for computer users, successfully treat dry eyes and offer many solutions and treatments for visual symptoms. The eyewear stylists will then help clients easily find eyeglass frames that will fit each individual's personality and lifestyle. Contact lenses from 1-day disposables to custom contact lenses for irregular corneas are also available at the Bay Area optometry office.