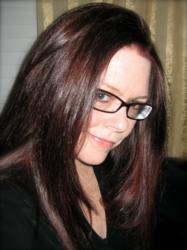 (PRWEB) February 10, 2013
As a Navy wife and mother of two toddlers, one might wonder how Kristina Wright does it all, but she's living her dream and following her passion as a writer. She has been met with rave reviews and fans.
Her upcoming in-person February events include moderating a book discussion on the Fifty Shades of Grey Phenonmenon at the Chesapeake Public Library on February 11 and a lunchtime booksigning at Fountain Bookstore in Richmond on Valentine's Day. And looking ahead to March, she will be in Washington, DC for CatalystCon! She's participating in two events coordinated by Rachel Kramer Bussel: a panel on How to Become a Successful Erotica Writer and her very special In the Flesh reading.
Also in March, she will be teaching a class at The Muse Writers Center in Norfolk, VA. Behind Closed Doors: Writing the Love Scene will be a two session workshop focused on writing believable, authentic sex scenes, regardless of genre. She has said about the class, "I'm very excited to use my fourteen years of erotica writing experience in an academic setting."
Check out some of Kristina Wright's titles, in print, ebook, and audiobook!
Duty and Desire: Military Erotic Romance
Edited by Kristina Wright
Epic Stories of Love and War
The only thing stronger than the call of duty is the call of desire. Duty and Desire enlists a team of hot-blooded men and women from every branch of the military who serve their country and follow their hearts. Stateside and abroad, these warriors meet passion and danger head-on.
Best Erotic Romance 2013
Edited by Kristina Wright
Foreword by Saskia Walker
Can't Get Enough
What happens when love meets sex? Erotic love is that delicious blend of hearts and minds and bodies, a combination of sweet and intimate, surging and sensual. Sex by itself—hot, steamy, passionate sex—is one of the best things this life has to offer. And truly, so is love: first love, new love, love that has stood the test of time, love that has conquered every obstacle.
Lustfully Ever After: Fairy Tale Erotic Romance
Edited by Kristina Wright
Live Out Your Ultimate Romantic Fantasy!
Even grown-ups need bedtime stories, and this delightful collection of fairy tales will lead you down a magical path into forbidden romance and erotic love.
Available in audiobook here.
Fairy Tale Lust: Erotic Fantasies for Women
Edited by Kristina Wright
Foreword by Angela Knight
Something Wicked and Wanton This Way Comes
Award-winning novelist and erotica writer Kristina Wright goes over the river and through the woods to find the sexiest fairy tales ever written. Playfully seductive, supernaturally sensual, and darkly erotic, Fairy Tale Lust showcases clever twists to classic tales and introduces new stories inspired by the ever-popular genre.
Available in audiobook here.
Dream Lover: Paranormal Tales of Erotic Romance
Edited by Kristina Wright
Forward by Megan Hart
Out of This World Romance
Supernaturally sensual and captivating, the stories in Dream Lover fill readers with a craving that defies the rules of life, death and gravity. Kristina Wright presents a magical potion of sexy and romantic stories filled with male fairies and mermen, as well as darkly erotic tales of ghosts, shapeshifters and possession.
Available in audiobook here.
About Kristina Wright:
Kristina Wright is an award-winning author whose erotic fiction has appeared in over 90 anthologies. She has lived in three states, endured seven deployments (two while her husband was assigned to Navy Special Warfare) and countless months of underway training exercises and counter narcotics operations, made the happy transition from "snail" mail to e-mail and had two children. Their first son was born in 2009 while James was on an eight month deployment to the Middle East, but he was lucky enough to be stateside when their second son was born in 2011. Inspired by her South Florida roots and tales of drug running and espionage, Kristina received the Golden Heart Award for Romantic Suspense from the Romance Writers of America for her first novel. She is also the editor of six other Cleis Press anthologies. She currently lives with her husband and sons in Hampton Roads, VA, home to the legendary SEAL Team Six and the largest naval base in the world.