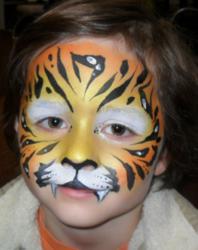 Dear Shelley thank you so much for the beautiful faces you painted. The kids loved the designs and the parents were thrilled with the results. You were fantastic with the little ones and really made the day a huge success.

Cheryl-Lynn
Melbourne, Victoria (PRWEB) February 11, 2013
Melbourne-based body artists had another extremely successful event at the Melbourne Zoo on Jan. 21 to paint faces and bodies.
WeLoveFacePainting.com.au brought triple the usual number of painters for the event, said company owner Shelley Bledsoe. She said that's unusual, but the venue called for more people than usual.
"The zoo is a big place and is always packed with people," she said. "I knew we'd need a lot more artists to keep up with the demand and I was right. It was a grand day at the zoo and we made a lot of people and children very happy."
Ms. Bledsoe said she is looking forward to having similar events throughout the Melbourne area as events and time allow.
"Face painting and body painting is fun for everyone," she said. "Children love having designs on their faces and parents like the fact the paint washes off easily later. Adults also enjoy getting painted because it's something simple, quick and easy and lets them express themselves."
We Love Face Painting! is based in Melbourne, Victoria. It was established by Shelley Bledsoe in 2007.
"With a background in Makeup Artistry, face painting was a natural progression. Our team thoroughly loves what we do and pride ourselves on our reliability, and quality work. Our face painting designs range from popular full face to cheek art," she said.
The best part of the work is how people react, she said.
"We love our work because it is such a great joy to make people feel special. We love how face painting makes us feel too! Our greatest reward is feeling connected to the community, we are privileged to share in your special occasions, and to meet people from all walk of life," she said. "We love to watch the magic of art impact on peoples' lives. It is our teams sincerest desire to provide each person we paint with a feeling of joy, satisfaction and personal value in the time we spend with them."