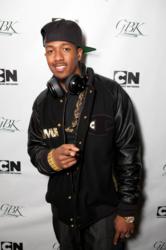 Los Angeles, CA (PRWEB) February 11, 2013
GBK (gbkproductions.com) - the luxury lifestyle gift lounge and special events company, hosted a backstage Thank You Lounge with Cartoon Network for their third annual Hall of Game Awards on February 9th. Cartoon Network's Hall of Game Awards lets viewers vote for their favorite sports stars and sports moments of the year, helping their favorite sports stars win the ultimate prize, the golden GAME trophy. Hosted by Nick Cannon and Shaquille O'Neal, the event was high-energy and full of fun.
Backstage, the evening's special guests had a chance to visit the Thank You Lounge and receive gifts and services ranging from the latest electronics, to stylish fashion and accessories. Among the prized items were Fly Watches, a new brand of colorful watches that uses colors and versatility for personal expression; Mind Candy, gifting Moshi Monsters™: Moshlings™ Theme Park Ds/3DS game; Bullboat USA LLC, gifting Hi-Call – the first true Bluetooth glove as you can text with it and also make a phone call; Wikipad, gifting The Wikipad tablet and controller – the tablet made for games; Dicks Cottons, styling the celebs with their brand new SoCal and Spring Break Oversized wayfarer sunglasses; 2K, providing a selection of the largest, most critically acclaimed titles in the video game industry and Viva Diva Wines, one of the fastest growing Moscato brands in the US and Caribbean Living, giving 2 all-inclusive nights at the W Vieques in Puerto Rico, Hard Rock in Punta Cana, Le Blanc Spa Resort & Grand Moon Palace Resort & Spa in Cancun.
Blending gift-giving and awareness, YES! Beat Liver Tumors, a non-profit organization dedicated to providing information, resources, support and HOPE to those who are affected by cancer of the liver, was featured at the lounge and was gifting Amazon Kindles pre-loaded with life-saving information for those who are affected by liver tumors, and invaluable information on the services, programs, and HOPE that YES! Beat Liver Tumors offers to those who are suffering from advanced cancer.
Before each guest headed off for the show, guests had a chance to taste some delicious ice cream from Farrell's Ice Cream Parlour Restaurants, who was treating each guest to their Mega Ultimate Super Ultra VIP Card that bestows the owner a free entrée, drink and two scoop sundae for up to 4 people per visit for unlimited visits for a whole year.
GBK, formerly GBK Productions, is a luxury lifestyle gifting and special events company, specializing in entertainment marketing integration. Formed in 2000 by Gavin Keilly, the company's Founder and CEO, GBK consists of five divisions: GBK Celebrity Gifting, GBK Special Events, GBK Weddings, GBK Charitable Consulting and GBK Marketing/Public Relations. Widely known in the entertainment industry for bringing that little extra something into the Gifting Lounge environment, GBK offers its clients a full range of marketing services. For more information on Gavin B. Keilly (CEO), Carla Domen (VP) or GBK, please go to gbkproductions.com.