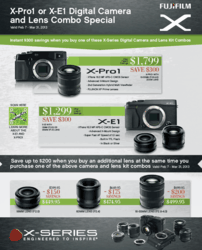 $300 instant savings on Fuji X-Pro1 or X-E1 Powerful Mirrorless X-Series Digital Camera and Lens Kit Combos, Now offered at B&H Photo
NYC, NY (PRWEB) February 12, 2013
Fujifilm X-Pro1 or X-E1 digital camera and lens combo $300 instant savings deal, now available at B&H Photo Video. Fuji X-Pro 1 digital camera & Fujifilm XF 18-55mm f/2.8-4 R LM OIS zoom lens, need to click at buy together and save.
Passion for photography and unrelentingly high-standards are what drives the Fujifilm X-Pro1 Digital Camera. Proudly made in Japan, every part of the X-Pro1 - from the sensor to the knurled finish of the mode dials - was painstakingly produced with an extreme attention to detail.
Harkening back to a time when cameras had the kind of weight to them that gave a photographer confidence, Fujifilm has designed the X-Pro1 with a die-cast aluminum top and base, a leather like finish on the main body for grip and the look and feel of authentic leather, a natural fitting eyepiece, and other elegant touches like precise engraving on the top-plate. This level of attention to design and a photographer's comfort when shooting makes it almost hard to believe the X-Pro1 is a modern digital camera.
That being said, the X-Pro1 is very much a digital camera, combining time-tested physical attributes - refined during the film era - and 21st century digital technology. Mirrorless, the camera's X Mount has a short flange back of just 17.7mm, meaning that rear lens elements are as close to the sensor as possible. This reduces the back focus distance of each lens and results in high resolution being achieved all the way to the edge of the image.
The sensor is Fujiflm's 16.3Mp APS-C 23.6 x 15.6mm X-Trans CMOS sensor. The X-Trans utilizes a color filter array to attack moiré and false colors, resulting in an exceptionally true-to-life image that sensor's with optical low-pass filters cannot approach. The EXR Processor Pro supports the X-Trans sensor in its mission and works with an integrated co-processor for high speed and precision.
Fujifilm X-E1 digital camera and Fujifilm 18mm f/2.0 XF R lens combo special, to implement the $300 instant savings one should click at buy together and save.
With a classic design, magnesium alloy build and completely state-of-the-art digital technology, the XE-1 will soon be a favorite among all levels of photographers from pros to enthusiasts.
The sensor on the X-E1 is Fujiflm's 16.3MP APS-C X-Trans CMOS sensor and the image processor is the EXR Processor Pro. The DSLR-sized X-Trans utilizes a unique color filter pixel array that eliminates a low pass filter and reduces moiré and false colors, resulting in exceptionally true-to-life color images, low noise and high resolution that other sensors with optical low-pass filters cannot approach. The EXR processor delivers high-performance, especially in terms of auto-focus speeds.
At the same time B&H would like to share with the Fujifilm photography enthusiasts that the Fujifilm XF 14mm f/2.8 R Ultra Wide-Angle lens is currently in stock.
The XF 14mm f/2.8 R Ultra Wide-Angle Lens from Fujifilm is designed for its X-Pro 1 Interchangeable Lens Digital Camera System. This is the fourth prime lens Fujifilm has introduced for the X-Pro 1 and its widest focal length to date.
About B&H Photo Video
As the world's largest source of photography, video and audio equipment, B&H Photo-Video is known worldwide for their attentive, knowledgeable sales staff, and excellent customer service, including fast and reliable shipping. Visitors to the website can access a variety of enlightening articles and educational videos. B&H has been satisfying customers worldwide for nearly 40 years.