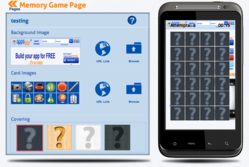 "The addition of the free Appsbar Games Module provides our users with a powerful tool for attracting users and making their content more engaging," said Scott Hirsch, founder and CEO of Appsbar.
Deerfield, Fla. (PRWEB) February 12, 2013
Appsbar, the leading free app maker service that allows anyone to create and publish their own apps, today announced the launch of its free Games Module, which allows app builders to easily add memory games and jigsaw puzzles to the free apps they create on Appsbar.com. Both games allow users to customize themes and upload their own images to personalize their game for themselves, their brand or their business.
With a fast, easy-to-use interface that guides app creators through the entire development process, Appsbar provides its members with the all the necessary online tools, including the new Games Module, needed to develop professional apps that meet the necessary requirements for submission to app stores (i.e.: Google Play, iTunes, etc.), including appcatch.com, its proprietary app market.
"The addition of the free Appsbar Games Module provides our users with a powerful tool for attracting users and making their content more engaging," said Scott Hirsch, founder and CEO of Appsbar. "Appsbar provides the most powerful suite of tools available for creating a free app, and we know that games are a fun way to help developers bring in downloads!"
Games Module Info:
Memory Game:
This game allows app builders to test the memory of those that have downloaded and use their app. The game sees players having to match two images together. Users start with a 6x4 grid of images, all face down. The user then selects one image, after which they select another one. If the images match, then they will stay face up. If the images do not match, then the image goes back to being face down. The game finishes when all the matches have been found. For this game, the app creator can upload up to twelve images of their choice. The image cards are then duplicated (to create 24 cards) and randomly placed on a grid face-down. The objective is to end with all 24 image cards face-up. Each memory game combines the player's time and attempts to calculate a final score that the player receives at the conclusion of each game.
Puzzle Game:
This fun puzzle game challenges the dexterity of the app user. To get started, the app developer uploads an image of their choice, and the image is then broken up into 24 icon-size puzzle pieces that are randomly placed on a grid. Each puzzle piece represents one segment of the central image. When playing the jigsaw puzzle game, players must complete the puzzle of an image. Players start off with a bunch of pieces that are shuffled up. They must then move the pieces around until they form the picture. The picture the player tries to form can be seen before they play the game as it is the background image for the "play" button. The player's objective is complete when all of the puzzle pieces have been strategically placed in their allotted position and the central image has been recreated. The Jigsaw Puzzle combines the player's time and number of moves to calculate the final score which is received once the game has ended.
For those who use Appsbar.com to create their free apps, to add a game to their app is simple and an easy process. In "page manager," app builders can edit their app, click on "Create New Page" and drag and drop the Games Module into their app's simulator. From there, builders can select their game ("memory" or "jigsaw puzzle") and customize it with desired images and/or themes. There is no limit to the amount of pages the app can have, so builders are free to add multiple games customized to their liking.
To check out how the new Game Module works and get access to all the exclusive game features before they are officially released, app builders can install AB Games from the appcatch marketplace.
Games Module Video: http://www.youtube.com/watch?v=x-vBArKmWcE&feature=youtu.be
Screen shots and other press assets: https://sparkpr.box.com/appsbar-presskit
About Appsbar
appsbar.com is an online resource for anyone to build and publish free apps. Launched in 2011, Appsbar fills the gap between over-simplified apps and costly, professionally-produced ones. Developed by Scott Hirsch and Appsbar Inc., it has grown into a community of over 275,000 everyday app developers, has seen over 40,000 apps published in app markets around the world, and has opened the way for businesses and people to easily engage with friends and brands online. For company information and partnership opportunities, visit http://www.appsbar.com.