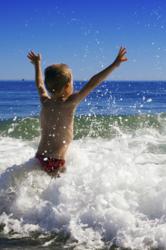 East Hartford, CT (PRWEB) February 13, 2013
Spring break is approaching quickly and it represents one of the biggest travel periods of the year. Spring is the second most popular time to travel, representing almost 25% of all personal trips per year, according to the Travel Industry Association. Individuals often associate spring break with students, however, it also represents one of the biggest vacation seasons for families as well.
Several travelers associate travel insurance with hurricane season, ski trips, and for the elderly, but spring break vacations have one of the highest percentages of an emergency or disruption occurring. While traveling as family, children can be put at risk for experiencing accidents, sicknesses, or even cause a disruption in plans when in a different environment, that could cost hundreds or even thousands of dollars. Travelers can often overlook insurance for a spring break trip, but still face big disappointment if a family getaway is disrupted.
Travel Insured International®, a leading privately-owned travel insurance provider, urges families who may have overlooked travel coverage in the past to reconsider for future spring break travel plans. The best time to purchase travel insurance is at the same time as trip reservations. However, it still may not be too late to help ensure that you and the kids enjoy time by the pool or a ride at the theme park this spring break.
•All of the four Travel Insured International® retail plans, including Worldwide Trip Protector, Worldwide Trip Protector Gold, Trip Protector Lite, and Trip Protector Lite Expanded provide Trip Cancellation or Interruption coverage due to sickness, injury or death of the insured, his or her travel companion, or any of their family members resulting in medically-imposed restrictions documented by the attending physician of the sick individual.
•Travel Insured's Worldwide Trip Protector plans include different Medical Expense coverage options. Depending on the plan selected, medical benefits containing limits from $10,000 to $50,000 can be covered, and Emergency Medical Evacuation coverage ranges from $100,000 to $1 million.
•Family members (of the insured or his or her travel companion) whose illness can trigger coverage under Trip Cancellation / Trip Interruption include parents, a legal guardian, step-parent, grandparents, parents-in-law, grandchildren, natural or adopted children, children-in-law, brother, sister, stepbrother or stepsister, brother or sister-in-law, aunt, uncle, niece or nephew.
•Every Travel Insured International plan comes with inclusive Worldwide Emergency Medical Assistance, available 24/7 from anywhere, and the Worldwide Trip Protector and Trip Protector Gold plans include 24/7 Concierge Assistance and ID Theft Recovery Assistance.
This document contains highlights of the plan. A complete description of the terms, conditions and exclusions of this plan can be viewed at http://www.travelinsured.com and will also be provided once the plan is purchased. Please note; Residents of GA, KS, LA, MN, OR, SD, TX, UT, and WA will receive a separate Certificate of Insurance in compliance with state requirements. Plans are underwritten by the United States Fire Insurance Company. Fairmont Specialty and Crum & Forster are registered trademarks of United State Fire Insurance Company. The Crum & Forster group of companies is rated A (Excellent) by AM Best Company 2012. Not all coverage available in all jurisdictions.
Travel Insured International
52-S Oakland Ave.
E. Hartford, CT 06128-0568