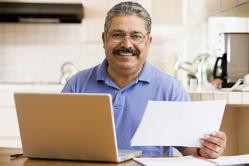 We can help older adults become more computer literate.
Plano, TX (PRWEB) February 13, 2013
Computer School for Boomers & Seniors now has a section of its campus devoted to complimentary Sample Lesson Plans that is accessible from its Home Page.
"When I first started teaching computer classes about ten years ago, older students signed up to gain computer knowledge for fun," said Mimi Witcher, Co-founder of Computer School for Boomers & Seniors (http://www.cs4seniors.com). "Now they are looking to become more tech savvy out of necessity."
According to Sentier Research, a data analysis company, Boomers in their 50s and 60s have lost the most earnings power of any age group, with their household incomes 10 percent below what they made when the recovery began three years ago. Many can't afford to retire and many were laid off and can't find another job.
When the GAO looked into Boomer/Senior unemployment, it found that employers assumed older workers would demand higher salaries, they would be uncomfortable reporting to younger bosses and they would lack computer skills.
"We can't do anything about employer perceptions," said Mimi, "but we can help older adults become more computer literate. We know money can be tight and they would like an online resource to acquire some general computer knowledge. That is why we now offer a variety of free Lesson Plans accessible from our Home Page."
There are Lesson Plans available for beginners and more advanced students. One of the free Lesson Plans that is offered is Sorting and Managing Data in Excel for Boomers who are trying to improve their computer skills.
Computer School for Boomers & Seniors is an online virtual campus with a mission to empower their students by providing encouragement, lifelong learning opportunities and new worlds to explore via the Internet. It has the largest selection of computer lesson plans created specifically for Boomers & Senors. (http://www.cs4seniors.com)