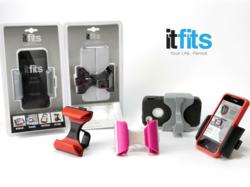 Long Branch, NJ (PRWEB) February 13, 2013
Latest into the 'product design' array via crowdsourcing giant Kickstarter is NY/NJ based itFits, making a big splash in its entre and earning a quarter of its 30-day $10,000 product budget goal within a mere 3 days of activating its Kickstarter campaign. itFits is a flexible yet strong smartphone accessory, wrapping around an array of smartphones with or without cases in place, allowing for a kickstand-like handsfree use anywhere in either landscape or portrait orientation, as well as functionality as a hook to affix your phone to any number of surfaces for maximum enjoyment. The itFits even allows for earbud wrapping. Oh, upgrading your phone next month or next year? itFits flexes so we'll hopefully be able to fit that phone and its case as well. itFits thought of everything.
"We received an enthusiastic consumer response from our early shipments." says design inventor and CEO Nancy Scala, "So much so that we decided to present our small business to the public in such a way that would enable buy in and help the itFits team to deliver this much needed – even long overdue - product to market that much more quickly. Kickstarter and crowdsourcing are so of the moment, we decided to see what a sophisticated audience would do to support our product. We're excited to give the Kickstarter audience a ground floor view of our innovative product."
During the month of February, Kickstarter supporters can pledge any amount of money through this crowdsourcing campaign here; bids of as little as $12 are rewarded with an itFits device in the color of their choice. That is 40% less than retail pricing as a thank you for helping support the itFits small business production launch.
The $10,000 itFits looks to raise on Kickstarter during the month of February will be enough to move a massive production run through the pipeline, ensuring that the goods get into the hands of the end user - fast. "Nothing would thrill us more," added Bill Burg, co-inventor and Creative Director at itFits.
The flexible itFitsTM accommodates the iPhone 3/3G/4/4S and the new iPhoneTM 5, plus the iPod TouchTM, AndroidTM, BlackberryTM and more. ItFits' patent pending functionality also flexes to wrap snugly around most protective cases on the market, including some of the most popular brands such as iLuvTM, SpeckTM and OtterboxTM. itFits functions as a stand in multiple orientations, is able to recline to the user's desired viewing angle, and integrates a hook that can attach to almost anything, all in one flexible little package. It incorporates an area for wrapping your headphones on the go. It stands upright in landscape or portrait view. It reclines to reduce glare and optimize a comfortable viewing angle. It hooks to your car visor for easy hands-free GPS navigation, quick and easy music selection or for a conversation over speaker phone. itFits your life at home or on the go.
As it has been since November 2012, the itFits is always available for purchase at http://www.itfitsyourlife.com, where it retails for $19.95 per unit. Product shipments began during the 2012 holiday season; press and consumer reviews have been very favorable, stressing value, flexibility and design.
About itFits: The smarter smartphone accessory that flexes to fit your smartphone with or without a case. Use it as a stand, recliner and hook all in one flexible little package, for iPhone 3/3G/4/4S/5, iPod Touch, and an array of leading smartphones available today like Androids, Blackberry, and more, with or without a case. Itfitsyourlife.com
Site: http://www.itfitsyourlife.com
Kickstarter 2.2013: http://www.kickstarter.com/projects/itfits/itfits-a-universal-smartphone-accessory
Twitter: https://twitter.com/itFitsYou
Facebook: https://www.facebook.com/itfitsyourlife
YouTube: http://www.youtube.com/watch?v=US5VYDa-nyg&feature=plcp
###