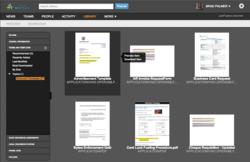 With Jostle's library in place this reduces additional requirements to keep Sharepoint Server 2007.
Vancouver, BC (PRWEB) February 13, 2013
Jostle Corporation announced today that its innovative LIBRARY is changing how organizations maintain their business-critical information. A leading example is the City of Vernon, which has moved all of its key documents out of Microsoft SharePoint and into their Jostle LIBRARY, so they are easier and more reliable to find, maintain and use.
"It is critical that our staff have quick and reliable access to the current copy of our polices, forms and bylaws," said Patti Bridal, Director of Corporate Services at the City of Vernon. "Important documents were getting lost in the clutter of SharePoint directories and file shares. Often multiple copies of the same document existed, making it difficult to know you had the correct version. Jostle solves this by providing "golden" copies of our go-to documents in clear, well-curated volumes."
LIBRARY is part of Jostle's People Engagement® platform, a new kind of intranet that helps organizations enable their employees with the information and connections they need to get their work done. LIBRARY organizes key information into clear Volumes that have identified owners and are fully searchable. The tools these "librarians" need to organize and curate their content are built into the Jostle platform, including the ability to surface important items as "recommended".
"Having clear ownership of our critical content is wonderful. Now if a document is missing or out of date, you can access the right person in a click and let them know," added Patti. LIBRARY supports all popular kinds of files, including videos, documents, forms and spreadsheets.
"With Jostle's library in place this reduces additional requirements to keep Sharepoint Server 2007, with tightening budgets we want to provide better services with less costs, and this fits our needs well" observed Wayne Ikesaka, Manager of Information Systems for Vernon.
To learn more about how the City of Vernon benefitted from Jostle's People Engagement® platform, please read our case study.
About Jostle Corporation
Jostle's cloud-based People Engagement® platform is a new kind of intranet that helps organizations around the globe enable their employees and drive their culture, in simple and engaging ways. Jostle's innovative approach results from an experienced team that brings three essential ingredients together – enterprise leadership, user experience design, and web-enabled software architecture. To share in our magic please visit us online at http://www.jostle.me. Based in Vancouver, British Columbia, Jostle's enterprise platform does what intranets always dreamed of doing, but never could.
About the City of Vernon
With a population of 38,000, Vernon is the commercial hub of the North Okanagan Regional District of British Columbia. The city employs about 250 people, spanning from office staff to city maintenance personnel to part-time seasonal workers, spread across 11 office locations. Nestled in the grassland hills and surrounded by three lakes, Vernon boasts year-round recreation opportunities that make it an attractive location for residents and tourists.