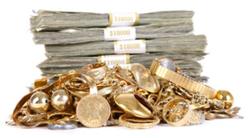 Don't get short changed. Sell your gold, silver and diamonds to a company you can trust.
New York, New York (PRWEB) February 13, 2013
The economy may or may not be turning around, predictions are mixed. None-the-less many people are taking a good look in their jewelry boxes and drawers in an effort to sell their used jewelry for its weight in gold or silver, literally. The price of gold has reached new highs, and in this volatile market, many experts are suggesting that gold prices may go even higher. It's no wonder consumers are looking to cash in, but can they do so without getting ripped off?
Since Biblical times a popular metric for determining the value of gold was comparing it to the price of a man's suit; a high quality suit used to be about the cost of 1 ounce of gold. That certainly is not the case any longer. Another popular metric was the price of 300 loaves of bread which historically cost one ounce of gold.
With the price of gold fluctuating, many companies have gotten into the business of buying gold, silver and diamonds for profit. Unfortunately many consumers are not getting the prices they deserve because they haven't done their homework.
A spokesman for Allurez warned, "I've seen a number of companies either intentionally or accidently miss weigh jewelry, offering the consumer way less than they deserve. At Allurez we tell each customer exactly how much their jewelry weighs and what we are willing to pay; we don't mail out a check until the customer agrees to the price we offer. Unlike many other online scrap buyers, your gold will not be melted down until you approve of the price. And we offer our very best price the first time; everyone gets the same rate based on current market value."
To avoid getting short changed, be sure to sell to a reputable company with an excellent Better Business Bureau rating. Also, take all stones & embellishments out of your scrap so there is no question as to its weight. Keep in mind that the weight and carat of gold determines its value; the higher the carat, the higher the value.
"We've been in the jewelry business for many years. Allurez is among the top online jewelry companies, with an unmatched assortment of diamonds, engagement ring settings, gemstone jewelry and more. Our system for buying gold, silver, diamonds and other precious jewelry is the same. First we ask the customer to send us pictures and information about each item they wish to sell. Then we will ask you to insure and send your items to our knowledgeable Allurez jewelers who will weigh and examine each piece and inform you via the internet how much we will offer you. If you agree, we will send out a check immediately. In addition we offer an extra 5% on your scrap if you choose to use it towards a new piece of jewelry from our tremendous selection."
Consumer Beware Before You Sell:
Choose a dealer you can trust to offer you the best rates.
Know the weight of your jewelry and how its value will be determined before accepting any offer.
Be aware of the fair market value of gold to be sure you are getting a fair deal.
Know the karat of your jewelry and make sure the dealer you choose separates your jewelry by karat, offering you their price on each different karat from 10kt – Platinum.
It's a great time for people to get some extra cash for their old jewelry, coins and scrap. Don't trust just anyone to treat you fairly and provide you with the best value. There are a number of reputable sources available.
Allurez is an established designer and retailer offering loose diamonds, diamond rings, and other fine jewelry. In addition they provide an opportunity to create your own engagement ring, choose the perfect push present, birthstone jewelry and more. All Allurez jewelers are well versed in buying and selling gold, silver, diamonds and other jewelry. They are headquartered in New York where they have multiple offices. Their mission is to provide customers with high end jewelry at affordable prices, and to educate the public about the jewelry industry including industry trends. You can visit them online at http://www.allurez.com.
Sources:
http://www.candofinance.com/investing/tips-on-how-to-sell-your-gold/
http://money.cnn.com/2011/07/19/pf/selling_gold/index.htm