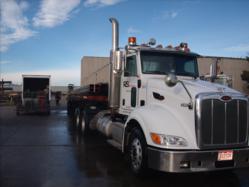 The economics of having a truck washing service come to their location and wash them in place makes much more sense
(PRWEB) February 18, 2013
Rarely does it make sense for large fleets to take their trucks to a truck wash. By the time they pay for the truck wash, the drivers wages, and operating expenses of the truck, the cost is often 2-3 times what it costs to have a truck washing service come to their location.
The economics of taking a fleet of trucks offsite for washing doesn't make sense. Even if the fuel depot has a free truck wash, like many truck leasing companies do, it still takes so much of the driver's time that it can cost more than using a service to wash the trucks.
The same goes for building an on-site truck wash, in most cases. Even with the truck wash bay on site, the company still has to pay someone to drive the trucks through the wash and park them again. And when the cost of building the truck wash is factored in, there's no comparison.
"The economics of having a truck washing service come to their location and wash them in place makes much more sense," said Joel Shorey, President of Wash On Wheels.
With 27 years experience in Denver, Wash On Wheels knows how to deal with Colorado's winter conditions. They specialize in EPA water recovery and include it with their pressure washing service at no extra charge.
Wash On Wheels is Colorado's largest mobile pressure washing company. In business since 1985, they have an A+ rating with the Denver/Boulder BBB. The company's services include pressure washing commercial buildings, sidewalks, parking garages, restaurants, and graffiti removal. Their services also include car washing for auto dealers, fleet truck washing, boat cleaning and interior and exterior detailing. They specialize in emergency grease and oil spill cleanups. Wash On Wheels services the Denver metro area and Front Range Colorado. For more information, contact Joel Shorey at 303-937-7181 or visit http://www.washonwheels.net.