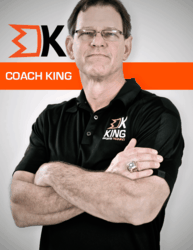 My goal was to include everything an athlete or coach needs to train at a professional level and maximize their genetic potential
Dallas, TX (PRWEB) February 20, 2013
King Sports Training is announcing the launch of a brand new website featuring performance training equipment and football training videos, exclusively designed by Strength and Conditioning Coach, Bob King.
Kingsportstraining.com offers a formula of training equipment and speed training drills that deliver an efficient solution for coaches and athletes looking to get more out of their training efforts, but lack the resources.
"My goal was to include everything an athlete or coach needs to train at a professional level and maximize their genetic potential," said Coach King.
After four decades of training amateur and professional athletes alike, Coach King has designed this speed and agility training system for everyone who wants to train at their maximum effort.
King's agility ladder, mini hurdles and other training gadgets transcend a multitude of playing fields. He has been a part of Super Bowls, Olympic Gold Medals and was one of the first strength and conditioning coaches in NBA history.
King Sports Training system has seen its athletes selected in the first round of the NFL draft and others cross the finish line to win Olympic Gold Medals for the United States.
KingSportsTraining.com is complete with an online store filled with training gear, football training videos and Coach King's speed training blog. King's four decade long career has resulted in this formula of equipment and library of agility drills that serve as the solution to problems faced by coaches, parents and athletes, today.
Heavy reliance on the knowledge and equipment of personal trainers can limit training results. Timing, cost and resources are not conveniently accessible. King Sports Training offers a solution by packaging the agility ladder, mini hurdles, cones and Over-speed bungee cable into one system. This packaging provides everything you need for speed and agility training at any time.
The goal is to not only get more athletes training, but to get them training properly and see the results.