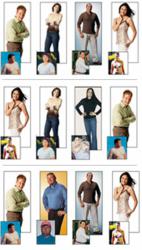 The images that showed less skin had an increase of 95.27% over the images with a large bust
San Diego, CA (PRWEB) February 15, 2013
Magazines, TV shows and movies would have us believe that those who dress less on Valentine's Day are are more likely to end the night intimately, and that those who are modest end the night cuddled up with Hershey's chocolates to bemoan being single on February 14th. However, according to Conversion Voodoo findings from an online study of over 100,000 U.S. adults between January and February, the tables may have turned. Most Americans were more inclined to choose a woman who covered up.
The test was made comparing images of an attractive woman, each identical and only changing the bust size and the amount of skin being shown.
The images that had a larger bust had, on average, a click through rate of 5.23% whereas the images with a smaller bust had a click through rate of only 3.71%.
The images that showed less skin had an increase of 95.27% over the images with a large bust, increasing the click through rate to 10.21%.
The study was taken on a large US retail website from over 100,000 randomly selected customers.
In 2007 Conversion Voodoo ignited the industry with its award-winning conversion optimization processes and techniques. Today, Conversion Voodoo continues to helps companies grow their profits by 15% to 500% using their arsenal of optimization implementations, marketing expertise, and business prowess. Conversion Voodoo is a privately held company and is headquartered in San Diego, CA. For more information on Conversion Voodoo, please call 858-625-4200 or visit http://conversionvoodoo.com.