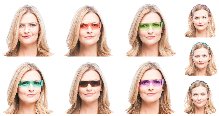 "Tired of wearing your glasses on your head? Tired of looking for your glasses? I was, so I invented Lookie lous readers. Now your glasses are right where you need them when you need them," says Kelly Coty, Creator and founder of Lookie lous
Nashville,TN (PRWEB) February 19, 2013
Developed by fashion industry veterans, lookie lous® are the answer to that annoying, age-old question, "Where are my reading glasses?" lookie lous are a convenient fashion accessory that allows you to turn a hairband into both a reader and sunglasses. They are not only stylish, but comfortable and priced just right.
Lookie lous are the brainchild of Kelly Coty, who came up with the idea when wearing her young daughter's plastic headband. She had lost patience with keeping track of her frames and thought the hairband/reader would solve that problem for herself and so many others.
A breath of fresh innovation for a staid segment of the optics industry, lookie lous® are smooth, flexible, and lightweight (less than 1 ounce!) hairbands that rest on the head. Now available in 7 more tints and 0.0 strength, even those not needing readers can enjoy the convenience and style of lookie lous® too!
When challenged by small print or in need of UV protection, the wearer simply slides lookie lous® down where they hug snugly to the temples. Done reading? Slide lookie lous® back up again. Voila! The beauty of lookie lous® is they're always right where you need them, on your head. That means:

No more poking through purses, pockets or backpacks to read or block out sunlight quickly.
No more snagged hair strands from pulling glasses on or off.
No more bent, loose, or ill-fitting frames that cause headaches or drops.
No more outdated reading glasses and sunglasses designs. lookie lous® look sleek, fit great, and read smart every time.
High style for a reasonable price--lookie lous® run $39.99 per pair. The sunglasses come in seven different colors; the product is rimless and hingeless, and made of transparent, flexible polycarbonate with a scratch-resistant hard coating. They are also available in reading powers of +1.00, +1.50 and +2.00. To purchase go online at http://www.lookielous.com or ask your local fine retailers.
lookie lous® come in 8 tints:
*Clear
*Paris Pink
*New York Black
*London Gray
*Los Angeles Sand
*Miami Blue*
*Nashville Green*
*Vegas Violet*
*currently only available in 0.0 strength
For interviews and more information, contact Robyn Stevens 856-885-0913 prmedia(at)live(dot)com.