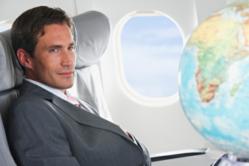 San Francisco, CA (PRWEB) February 20, 2013
After successfully launching their beta platform, mySkyConnections, a new site that enables frequent business flyers to connect, has been developing a set of site improvements and additional platform enhancements. Users can now email their itineraries to a dedicated email address, share their flights on Twitter and integrate their LinkedIn profile.
"Since our launch mid last year, we have been working around the clock to improve the way users interact with our site", says Ute Stohner, Co-Founder of mySkyConnections. "We understand that frequent business travelers are always searching for ways to expand their professional network while 'on the road'. And mySkyConnections fills that need; while making it easy to provide and share flight details. At mySkyConnections, we believe that every flight you take holds the potential of expanding your network. You could be flying to the same location as a potential new business partner".
A key focus was on how to make it easier for users to upload their flight itineraries. "We looked at various solutions, and started off with a basic online experience, where the user just inputs his or her flight details. A few weeks ago, we then launched the ability for users to simply email their itinerary to trips(at)myskyconnections(dot)com – we do the rest."
Other enhancements include the ability to share upcoming trips via Twitter, as well as linking Facebook and LinkedIn accounts. "With our LinkedIn integration, our users can upload specific details to their mySkyConnections profile", says Ute Stohner.
"In 2013, we plan to continuously improve the user experience. In fact, our data indicates that not only people located in the US sign up with us. Users come to us from around the world. And we have taken that into account for this year's plans".