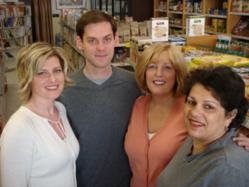 There are a number of holistic modalities that can help lessen the severity the virus symptoms. Supporting the immune system can help stop a virus or bacterial infection dead in its tracks or lessen its severity
Orland Park, Illinois (PRWEB) February 14, 2013
With severe intestinal viruses like the Norovirus on the rise throughout the Midwest, New Vitality Health Foods, Inc. outlines effective holistic ways to combat its harsh symptoms. Building-up the immune system when a person starts to feel sick is an effective way to shorten the duration of the illness.
"Noroviruses are a group of viruses that cause inflammation of the stomach and large intestine lining. The virus can quickly pass from person to person through shared food or utensils, by shaking hands or through other close contact," shared Barbara Griffin, NMD, CNC, Certified Gluten Practitioner and owner of New Vitality Health Foods, Inc.
"There are a number of holistic modalities that can help lessen the severity the virus' symptoms which include vomiting, diarrhea and cramps. Additionally, supporting the immune system can help stop a virus or bacterial infection dead in its tracks or lessen its severity," concluded Dr. Griffin.
Build-Up Your Immune System
Monolaurin: Decades of research have demonstrated the germ-killing and disinfectant properties of this natural supplement. Monolaurin is available in capsule form.
Sovereign Silver (colloidal silver): Used topically, colloidal silver kills bacteria, protecting wounds from infection. When taken internally, it has equal effectiveness in helping with throat germs, respiratory infections and intestinal virus. Sovereign Silver comes in a liquid spray or drop form, as well as a nasal spray.
Vitamin C: Long known for its myriad health benefits, vitamin C is one of the most popular nutrients taken in supplement form. Vitamin C can be found in many fruits and vegetables, including red peppers, strawberries, broccoli, dark leafy greens, and of course, oranges.
Zinc: Zinc, an essential trace element with antioxidant properties, plays a vital role in maintaining a healthy immune system. Individuals who suffer from mild to severe zinc deficiency are more prone to a variety of illnesses. The administration of zinc, either in lozenge or spray form, at the early onset of a cold or flu can be beneficial.
Echinacea: Echinacea it has been used to treat general infections and wounds, the cold and flu, strep throat and allergies. The potent herb encourages white blood cells and lymphocytes to attack invading organisms, thus increasing the number and activity of immune system cells.
Dr. Griffin recommends the following supplements to treat the symptoms of an intestinal virus or flu:
Bilberry
People have used bilberry to treat diarrhea for centuries. Bilberry in its dried form contains tannin, an ingredient that can work as both an anti-inflammatory and an astringent to constrict and tighten body tissues. It is thought to reduce intestinal inflammation as well.
Psyllium
Psyllium is a soluble fiber that comes from the husks of the seeds of the plantago ovate plant. An ingredient that can help to build bulk, psyllium can firm up bowels by soaking up water in the colon that leads to diarrhea.
Probiotics
Probiotics are very effective in shortening the duration of the illness infectious diarrhea by 24 to 30 hours. Strains of probiotics that are most effective include: Saccharomyces boulardii, Lactobacillus GG, and Lactobacillus reuteri
Boiron Homeopathics
Homeopathics are available that target relieving vomiting, nausea, and diarrhea.
Dr. Griffin recommends the following tips when stricken with an intestinal virus or flu:
1. Avoid dairy products
Dairy products, like milk, are hard on the stomach and can cause additional upset, nausea or vomiting. Stick to ice, water and tea.
2. Avoid caffeine and alcohol
Caffeine and alcohol can weaken the immune system and cause the illness to prolong.
3. Reintroduce food gradually
It is important to gradually introduce food back into your system to avoid nausea and vomiting. Slowly see what your body can handle. Stick with easy to digest foods like chicken broth, bananas, applesauce or toast.
4. Avoid dehydration
Diarrhea or vomiting causes the body to lose fluid rapidly. When nauseated, keeping fluids down may be difficult. Try sipping small amounts of water as frequently as possible. Sucking on ice or frozen natural popsicles can help increase fluid intake. Water rehydrates the body, but water alone doesn't replace the essential salts required by the body for fluid balance and other functions. Replacing these essential salts is crucial during a bout of diarrhea or vomiting. Most experts recommend drinking oral rehydration solutions.
5. Take medication for fever relief
A fever reducer can make you feel more comfortable and able to rest longer, which is what your body needs to get well.
Dr. Griffin recommends consulting your physician before introducing a supplement.
About New Vitality Health Foods, Inc.:
New Vitality Health Foods, Inc. provides Chicagolands' largest selection of allergy-free foods that have met their high standards for taste, quality, and nutrition. New allergy-free foods are introduced weekly. They also carry frozen foods, vitamins, herbs, homeopathic, aromatherapy, body care, pet care, household items and much more. New Vitality features only the highest quality, effective nutritional supplements to support its customer' total health. New Vitality Health Foods, Inc. is located at 9177 West 151st., Orland Park, Il 60462. (708) 403-0120 http://www.newvitalityhealthfoods.com