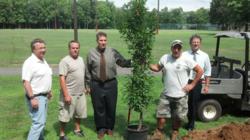 Fairfield, New Jersey (PRWEB) February 19, 2013
While being a company whose foundation is built on the output of prints and copies from the document management technologies they provide to their clients, Electronic Office Systems, recognizes the importance of supporting the environmental "Green Initiatives" of the communities they serve. To that end, the Fairfield, New Jersey based company launched a "Plant a Tree" program in the summer of 2012. The program calls for the planting a new tree for every two palettes of printing/copying paper they sell.
Since the program inception the company has planted an average of three trees per month across the New Jersey/New York communities they serve. "Being environmentally conscious is one of the fundamental core values that is at the forefront of our company and as a market leader in the printing and document management industry, we have a social responsibility to set a positive example wherever we can," says Andrew Ritschel, President of Electronic Office Systems.
Being green isn't a new trend for Electronic Office Systems, some of the green initiatives that have been in place since the company's inception includes:

HP Cartridge recycling programs
Increase energy efficiency and cut consumable waste
Promote environmentally-conscious work behaviors
Reduce overall environmental impact
About Electronic Office Systems, Inc. .
From small/medium businesses to large corporate enterprises, Electronic Office Systems Inc., a Fairfield, New Jersey based company, serves a broad range of organizations with a variety of document management and workflow solutions and services. For more information on Electronic Office Systems , please visit: http://www.eosnj.com