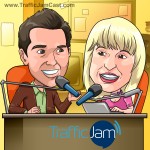 Facebook is a brilliant channel for them...
Dubai, United Arab Emirates (PRWEB) February 27, 2013
Online marketer James Reynolds reinvented himself anew by etching another niche in the online marketing circle by hosting his own podcast channel, TrafficJam. To inaugaurate this new service, Reynolds invited Victoria Gibson, a Melbourne-based Online Marketing Specialist of Marveo to grace his program and to give insights on how social media, more specifically Facebook, improve online traffic and specialize internet marketing.
Gibson gave a few remarks regarding Facebook as a viable marketing tool for business. She implied that in just a few years after this social networking site was established, growth in website marketing exceeded her and Marveo's expectations and was currently trending as the most liked marketing playfield.
Facebook, a popular medium targeting social and group interaction through the internet, was preceeded by Facemash in 2003 by Mark Zuckerberg and three of his Harvard high school buddies. After being a success as a school project for Harvard students, Facemash was reinvented, rebranded, and reintroduced by Zuckerberg to the public as Facebook.
Facebook became an instant success as it eclipsed Friendster, one the more popular social networking media back in 2002, and even outfollowing Twitter, established in 2006, by being voted as the most favorite social networking site as of February 1, 2013 by eBiz|MBA (http://www.ebizmba.com/articles/social-networking-websites).
"Facebook is a brilliant channel for them, if it's not about selling, it's about customer service, and hearing your customers and responding to their queries, concerns and creating advocates across," Victoria Gibson commented.
Branding itself as a medium par excellence, Facebook is facing the challenges of a rapidly evolving internet. And the prospect of being an alternative venue for internet marketers is quickly transforming its character from an ordinary social networking site to a cost-efficient commercial medium.
Online marketers and dot.com businesses have successfully accessed Facebook's wide audience share and made it their best liked platform for website merchandising. And with this increasing demand for Facebook exposure, these websites have fallen in a stiffer competition against themselves for online presence and site ranking.
Heavy website traffic is another reason why online marketers chose Facebook as their preferred partner in carrying their wares and tradenames across a wider spectrum of visitors. "What I love about Facebook is that it takes all kinds and generally they are there," Gibson stated. "Online companies that have a good personality attached to them, and that use video, those work extremely well. And anything in fashion and music is bound to skyrocket on Facebook as well," she added.
Facebook is also revamping itself to create a better interface that could help websites in selling their products and services while maintaining a professional PPC (pay-per-click) online service could aid as well in improving their website traffic.
Click Jam is one example of a PPC (pay-per-click) Campaign Management tool that will help online entrepreneurs beat the competition by providing them with remarkable traffic and high conversion yield.
Gibson also highlighted in the interview with Reynolds that future innovations were already in progress. Facebook already began employing an enhanced search engine called grass search. Online marketers would have better control on a specific search and would have favorable gains on their site's SERP (search engine results page). This meant higher website traffic and better page clicks results.
Social media has changed the phasing and the pacing of online marketing in the last decade and more of this evolution are to be expected in the years to come. Facebook, alongside its fellow social media networks, will definitely carve a niche in the internet as a viable venue for better online marketing solution.
About James Reynolds
James Reynolds is the founder of Search Engine Optimisation agency, SEO Sherpa, and Google Adwords Pay-Per-Click management company, Click Jam. He is an expert in helping entrepreneurs drive sales and increase the overall responsiveness and profitability of their online marketing. James has earned great respect in the field and is an experienced internet marketing speaker appearing at events worldwide and often in the media in Dubai, where he resides.
###