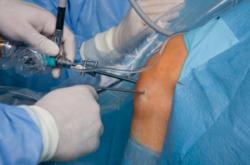 The cruciate and collateral ligaments of the knee are critical to maintaining optimal alignment and stability.
Beverly Hills, CA (PRWEB) February 22, 2013
According to the Sporting News, U.S. Olympic skier Lindsey Vonn recently underwent knee surgery after a frightening crash at the World Championship Series in Austria. Vonn sustained a torn anterior cruciate ligament (ACL) and medial collateral ligament (MCL) in her right knee, as well as a lateral tibial plateau fracture (broken shinbone) in her lower leg.
Vonn remains optimistic about her recovery, her mind set on returning in time for the 2014 Sochi Winter Games. According to the Beverly Hills orthopedic surgeons at La Peer Health Systems, it could be at least eight months until Vonn's knee is stable enough to ski.
"The cruciate and collateral ligaments of the knee are critical to maintaining optimal alignment and stability," explained Dr. Peter Newton, a board-certified orthopedic surgeon at La Peer Health Systems. "Severe ACL and MCL tears must be surgically reconstructed because the torn ligament ends will not heal by themselves."
Ligament reconstruction surgery involves removing damaged tissue within the knee joint and repairing torn ligaments to restore normal anatomy to the knee. During ACL reconstruction, the anterior cruciate ligament must be replaced by a graft or donor tendon. MCL tears in which the medial collateral ligament has been torn away from the bone require surgical reattachment of the ligament.
Vonn's physical therapy likely began the day after ligament reconstruction surgery. A knee rehabilitation program aims to manage swelling and exercise muscle control, with a gradual progression to full range-of-motion and strength activities. Returning to sports that place a high level of stress on the knee, such as skiing, may take from 9-12 months. Recovery time largely depends on the individual's dedication to rigorous rehabilitation.
In addition to significant ligament damage, diagnostic imaging confirmed a fracture at the top of Vonn's lower right leg bone, known as the tibial plateau. Dr. Andrew Weiss, an orthopedic surgeon at La Peer Health Systems, clarified how the tibial fracture might impact rehabilitation from knee surgery.
"The tibial plateau is one of the most critical load-bearing areas in the human body," remarked Dr. Weiss, a specialist in orthopedic trauma. "Fortunately, Vonn sustained only a small impaction fracture, which will heal without surgery and is not likely to complicate her recovery."
Although Vonn is not expected to undergo fracture repair surgery, she will be on crutches for several weeks to avoid putting any weight on the injured leg. This may limit the type of physical therapy exercises that Vonn can initially perform for her knee, but is not expected to deter her from making an exuberant recovery.
La Peer Health Systems is an outpatient surgery center in Beverly Hills, founded by doctors and focused on providing excellent patient care alongside the most cutting-edge medical treatments available. With 40 world-renowned physicians in 13 specialties, we offer comprehensive medical treatment that takes patients from consultation to diagnosis, treatment, surgery, and ultimately aftercare. Our 13 medical departments include orthopedics & sports medicine, gastroenterology, head & neck surgery, colorectal & general surgery, podiatry, ophthalmology, pain management, plastics & reconstructive surgery, gynecology, spine surgery, interventional cardiology, bariatric surgery, and anesthesiology. Unlike large hospitals, La Peer's unique structure offers extremely personal care in a safe and controlled environment.
More information about La Peer Health Systems can be found at http://www.LaPeerHealth.com.