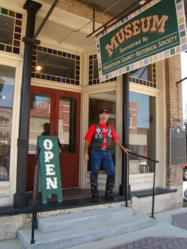 Athens is the perfect place to getaway and explore the outdoors, said Sherri Skeeters, tourism coordinator for the City of Athens Department of Tourism.
(PRWEB) February 20, 2013
Travelers looking for somewhere to go this summer on a tank of gas can look no further than Athens, Texas, Home of the Hamburger. Located 75 miles southeast of Dallas, Athens is the perfect destination for outdoor enthusiasts. The staff at the City of Athens Department of Tourism has put together a list of top ten things visitors and families can do in Athens this summer:
1) Athens Scuba Park
Explore underwater treasures in the beautiful blue waters of this spring-fed lake. Athens Scuba Park is open to scuba divers only.
2) Texas Freshwater Fisheries Center
Located next to Lake Athens, the Texas Freshwater Fisheries Center offers 300,000 gallons of aquaria with native Texas fish, a daily dive show, fishing, tram tours, an alligator exhibit and wetland trails to go exploring. No fishing license is required and all bait and tackle are furnished.
3) Lake Athens
This 1,799 acre lake is located on FM 2495 and offers a variety of water sport activities for outdoor enthusiasts and is best known for its largemouth bass. A boat ramp, marina, restaurant, and picnic area are also available.
4) East Texas Arboretum & Botanical Society
One hundred acres of wooded beauty, trees, flowers, and wildlife await your discovery at the East Texas Arboretum. Walk along the spring-fed streams connected by a 115-foot suspension bridge and visit the historic Wofford House Museum, built in the 1800's.
5) Henderson County Historical Museum
Located one block north of the downtown square, the museum is housed in the historic Faulk-Gauntt Building. First built in 1896 as a grocery store, exhibits on the first floor continue to emulate a turn-of-the-century dry goods store while the second floor is a re-creation of an early law office, parlor, bedroom, bath, kitchen, and schoolroom.
6) Henderson County Regional Fair Park Complex
There's literally something happening at the fairgrounds nearly every weekend. Located on Hwy. 31 East, the complex sits on 68-acres and consists of a 4,500 person capacity arena which hosts rodeos, concerts, horse shows, livestock shows and more.
7) Cain Center & Cain Park
Nestled in the heart of the beautiful 85-acre Cain park and surrounded by beautiful oaks and pines, the Cain Center is a complete fitness center offering complimentary access to visitors staying overnight in Athens hotels simply by showing their hotel room key. The park has an 18-hole disc golf course, walking/jogging trails, playground, and a catch and release fishing pond.
8) Culture, Shopping & Entertainment
Downtown Athens is dotted with quaint art galleries, boutiques, and restaurants. After a day of shopping, take in a performance at the Henderson County Performing Arts Center or attend a local concert.
9) Berry Pickin', Winery Tours, and the Farmer's Market
In East Texas, summertime means it's time for berry pickin' and fresh produce from the Farmer's Market. The Farmer's Market is open from 8 a.m. to 12 p.m. each Saturday through the summer and is located in the city parking lot in downtown on N. Palestine Street. Tara Vineyard & Winery, located six miles north of Athens, offers winery tours and tastings every Saturday at 2:30 p.m. or by reservation.
10) NY-TX Zipline Adventures
Located atop the highest point in Henderson County at Shultz Mountain Ranch, the NY-TX Zipline Adventures has the longest zipline in Texas at over 900 feet and over 100 feet above the ground.
About the City of Athens:
The City of Athens, Texas is a scenic, idyllic town offering relaxation and a break from the hustle-and-bustle of everyday life. With its nature trails, fall foliage, fishing sites, scuba diving facilities, rodeos, and vineyard, it appeals to adventure enthusiasts and casual travelers alike. Athens is also the nationally acclaimed "home of the original hamburger." For more information about Athens, including hotel accommodations visit http://www.AthensTX.org.