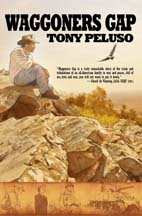 Waggoners Gap is a truly remarkable story of the trials and tribulations of an all-American family in war and peace…full of sex, love, and war…you will not want to put it down. —Chuck de Vlaming, LtCol. USAF (ret.)
Los Angeles, California (PRWEB) February 20, 2013
Warriors Publishing Group is proud to bring "Waggoners Gap," Peluso's first published novel, to readers who will find themselves fascinated not only with his fluid story-telling but also with his insightful descriptions of the effect of such seminal events as economic depression, war, and societal change on families from both sides of the tracks in a small town near Carlisle, Pennsylvania. Peluso's colorful cast of characters regularly view and contemplate those events from a special spiritual place called Waggoners Gap which overlooks the beautiful Cumberland Valley.
Waggoners Gap also serves as a launching pad and landing strip for Peluso's characters as they venture off to service in World Wars I and II and ultimately return to small town life which consistently changes, while many citizens struggle to keep it the same idyllic place. At the heart of Peluso's book is the constant battle between two disparate families fighting for survival and success in the dark decades surrounding World War II. One family owns the textile plant in town that employs most of the citizens, while the other is a clan of blue-collar wage slaves. The battle for dominance and survival becomes nearly as dark and devious as world events that lead up to World War II.
A highlight of "Waggoners Gap" is the author's description of military service in both world wars by members of the Genero clan, the blue-collar family in the story. The father was an unsung hero of World War I and the children—brother and sister—both serve willingly and admirably in World War II. Peluso draws on his own military background to bring an absorbing reality to both conflicts and the reactions of his characters. He's also at home describing the double-dealing and back-stabbing by the scion of the plant-owning family who nearly succeeds in destroying all the citizens have worked to establish. In his tale-telling, Peluso takes readers on an accurate and absorbing trek from the small town that serves as the hub of the story on the home front to Army training bases, ships at sea, battlefields in Europe and the Pacific and back again to Wagonners Gap.
Warriors Publishing Group is dedicated to connecting readers to the best in military fiction and nonfiction. WPG is a part of Warriors, Inc., the entertainment business' premiere military advisors, with credits including Band of Brothers, Saving Private Ryan, and many more. Our books provide entertainment and insight into the missions, motivations, and mentality of the military mind.