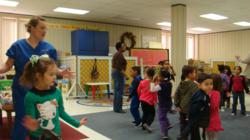 Beaumont, TX (PRWEB) February 20, 2013
The children of First Steps Daycare in Beaumont got a visit from the dentist this Friday. Since February is National Children's Dental Health Month-a month-long celebration sponsored by the American Dental Association to promote dental education and awareness for all children.
Dr. Ashley DeMarco and her dental team are visiting local elementary schools and daycares to speak to students about dental health and maintaining a beautiful smile. During the presentations, Dr. DeMarco teaches correct brushing techniques, cavity prevention, and reinforces healthy feelings about a trip to the dentist's office. Dr. DeMarco believes that building trust and confidence in children helps dental visits to be much more enjoyable. "Because most dental fear stems from bad dental experiences as children, we try to promote positive early dental experiences." The presentation is age-appropriate, complete with a song and choreographed dance and everyone gets a new toothbrush! "By helping children develop a good attitude toward healthy dental habits, we will provide them with the tools they will need to properly maintain good oral health throughout their lives", says DeMarco.
The team of Gulfside Dental plan on visiting several schools in the Golden Triangle area including the Amelia Elementary, Regina Howell Elementary, The Montessori School of Beaumont , Kid's Triumph Child Care and others.
For more information, or to schedule Dr. DeMarco to visit your school or organization, contact Gulfside Dental at (409) 899-4867 or email pr(at)gulfsidedental(dot)com.