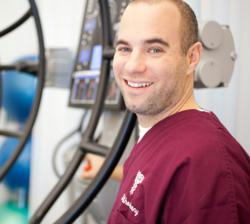 When you find the cause and address it, you ensure long term pain relief.
New york, NY (PRWEB) February 28, 2013
Dr. Steven Shoshany is well known in Manhattan for being one of the few chiropractors at an integrated medical practice to offer advanced computer assisted spinal decompression. This non-invasive, non-surgical method is known for producing lasting results and even reversing damage to inter-vertebral discs that may be bulging or herniated.
Dr. Shoshany is expecting the delivery of the 9000 F spinal decompression system within the next few weeks. He will be the first chiropractor in New York to provide access to this system. He is no stranger to cutting edge back and neck pain treatment, since he was also among the first chiropractors to provide true non surgical spinal decompression in NYC. The 9000 F allows decompression to be administered on the lumbar and cervical spine on the same machine. Currently Dr. Shoshany is equipped to provide both cervical and lumbar decompression but on separate machines.
The DRX9000 F decompression system features two touch screen computers, one for lumbar decompression and one for cervical. The international power feature further increases the safety and reliability of treatment, it allows the doctor to stop the decompression session in case of a power outage and safely remove the patient. The real time performance solution can automatically monitor, adjust and correct the differences between the intended and actual tension levels, which allows for a much more precise treatment session and overall improved results. The system can also be controlled remotely by the doctor or technician, and has adjustable shoulder and lumbar supports to help make the treatments more comfortable than ever.
A herniated disc doesn't always lead to pain, and some people may even recover with just some rest and over the counter medication. Dr. Shoshany already gets exceptional results using an integrated approach and he is usually able to treat even patients who have chronic pain quickly with chiropractic adjustments, massage, and other manual therapies like Graston technique, and Active Release Techniques (ART). He has also found spinal decompression to be an invaluable tool in treating back pain for long term results. Spinal decompression has proven to be the best solution for those with sciatica and herniated disc pain in their back or neck. Dr. Shoshany has advocated approaching treating the root of the pain rather than masking it with various medications. "When you find the cause and address it, you ensure long term pain relief." said Dr. Shoshany who works alongside a pain management specialist, a massage therapist, and a physical therapist.
Dr. Steven Shoshany has been treating patients using spinal decompression for over ten years and has been providing them with unparalleled results and has helped many people get their lives back. He works alongside other chiropractors, medical doctors, massage therapists, and even an acupuncturist to help the most patients he can. He sees a vast variety of people suffering from various forms of pain, whether its neck pain, numbness, tingling, carpal tunnel syndrome, hip pain, knee pain, low back pain, or herniated discs, he's been able to produce great results for his patients.