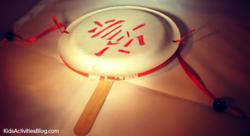 Making Chinese drums are a great tool to teach kids about Lunar New Year.
Dallas, Texas (PRWEB) February 24, 2013
The Lunar New Year is a time of celebration and renewal in Chinese Culture. Teach the kids about this important Chinese holiday with festive crafts for kids.
Before making the craft, get out a map and show the kids where Asia and China are located. Also, get out books to show important landmarks such as the Chinese Wall and show them pictures of Chinese New Year celebrations.
After the kids are a bit familiar with the culture, gather the materials for the craft. The red and gold materials will resemble Chinese decorations.
Materials to make the cute Chinese drum are paper plates, red ribbon, craft sticks, Chinese character stencils, glue and markers. Assemble the materials according to the instructions provided on Kids Activities Blog. Let the kids have fun decorating the drum with Chinese characters.
Another Chinese culture activity released on Kids Activities Blog is making a fun Chinese fireworks picture. The picture is easy to do and the result is stunning. Materials needed are red card stock, gold paint, glue, glitter and stickers. Assemble the card according to the instructions provided on Kids Activities Blog and let the kids be amazed at their creation.
For additional Chinese culture activities for kids, check out Kids Activities Blog this week. Come get inspired to get the kids learning while having lots of fun.
About Kids Activities Blog
Kids Activities Blog is a website created by two moms (who collectively have nine children), Rachel Miller and Holly Homer from June Cleaver Nirvana. It is their daily goal to inspire parents and teachers to play with kids. This interactive website publishes simple things to do with kids twice a day. Kids Activities Blog is a great tool for moms and teachers to find kid-friendly activities that create memories and sneak learning into the fun.