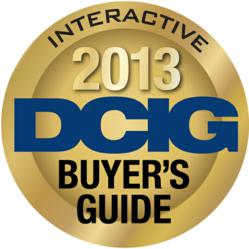 We're at an inflection point where new server technologies are driving the need for a new generation of storage technologies that in many ways flash memory storage arrays are ideally suited.
Austin, Texas (PRWEB) February 20, 2013
Coming off what many in the industry believed was the "Year of Flash," 2013 is beginning to shape up as the year flash became real in many ways for enterprise IT. While there is much debate on the value and benefits of leveraging flash for enterprise type workloads, there is still some confusion. With this in mind, DCIG is proud to announce the publication of its latest Buyer's Guide for Flash Memory Storage Arrays. The latest in a series of Insider's Guides to top-of-mind storage and enterprise IT technologies, this Guide is designed to help end-users that are researching solutions to address specific needs in their own particular IT environments.
As DCIG has noted previously, flash memory does a lot more than improve application performance. It forces an almost top-to-bottom change in how organizations need to think about their storage infrastructures from how they should deploy them to how they should depreciate and manage them. The Flash Memory Storage Array Buyer's Guide evaluates the latest flash-based solutions and provides an initial assessment on ways enterprise IT users can leverage flash to fix application performance issues that may not have been adequately or cost-effectively addressed by traditional spinning disk storage systems.
"Beyond the environmental situation which drove the cost of High Density Disks (HDDs) to the point where flash alternatives became extremely attractive, we're at an inflection point where new server technologies are driving the need for a new generation of storage technologies that in many ways flash memory storage arrays are ideally suited," said Joshua Konkle, co-author and lead analyst, DCIG, LLC. "Storage systems that in the past had trouble feeding enough data to older generations of servers to keep CPU performance optimized, are now being addressed by flash where 1,000,000 IOPS is common place and improvements to overall data center efficiency are much higher."
For the Flash Memory Buyer's Guide, DCIG, LLC evaluated 34 offerings from 10 companies. After an initial questionnaire of more than 85 questions was completed, participating companies' capabilities were assessed from the questionnaire and from information available in the public domain. Solutions were then evaluated for more than 275 characteristics, and weighted after conversations with end-users. After scores were compiled, solutions were assessed and ranked either "Best-in-Class," "Recommended," "Excellent," "Good," and "Basic" across functionality and capability relative to the overall market landscape. The intent for this Buyer's Guide, as with all DCIG Buyer's Guides, is to provide an "at-a-glance" comparison from which end users can select the most appropriate solution for their existing needs. The Buyer's Guide also provides perspective on how solutions from less well known storage providers compare against established and better known brands.
The DCIG 2013 Flash Memory Storage Array Buyer's Guide Top solutions include (in alphabetical order): Nimbus E Class E6400M/E1000X, E6400M/E2000X, Nimbus S Class S1005M / S1005X, S255M / S255X, S505M / S505X, PureStorage FA 310 and FA 320, Tegile Zebi HA2800, Violin Memory 6212 and 6232.
The DCIG 2013 Flash Memory Storage Array Buyer's Guide helps end users determine solutions that may best fit their needs by:

Listing each individual flash memory storage array model by storage provider.
Listing different flash memory storage array features, whether or not they are supported and (where appropriate) how they are implemented.
Weighting these features according to what organizations consider most important.
Providing insight into what VMware vSphere APIs the flash memory storage array offers to optimize their VMware environments.
Scoring these features.
Ranking each flash memory storage array model.
Creating a standardized data sheet for each flash memory storage array model.
"The benefits to end users by deploying flash-based storage arrays are significant," Konkle added. "We are seeing significant ROI and a substantial improvement in the overall return on assets with flash memory storage arrays. In many situations this translates into reduced wait times in virtual environments, reduced power consumption and heat and reduced management overhead. The research bears this out, and we're not too far away from seeing flash memory storage arrays being the de facto standard for many application performance environments. "
Disclosure and Methodology
DCIG identified more than 10 plus companies that provide flash storage arrays. Each provider was given the opportunity to complete a survey with 50 questions and had to meet the following criteria:
Be available as an appliance.
Not be based on Microsoft Windows Storage Server.
Must support a configuration containing only SSDs.
May support mixed configurations of HDDs and SSDs.
Must use SSDs as primary storage.
Must support a minimum of 16 disks and/or modules.
Must support one or more SAN protocols (iSCSI, Fibre Channel, FCoE or Infiniband).
May support one or more NAS protocols (CIFS, NFS, REST).
Must ship by October 31, 2012.
In every case every, the participating vendor had the opportunity to review and respond to the survey and the information regarding their product displayed on the data sheets included in this Buyer's Guide.
DCIG also spoke to various end-users to get a sense of how they would weight their needs in these various areas. DCIG then evaluated the vendors' capabilities by applying weighting indicated from our conversations with these end-users. No vendors, whether clients or not, were afforded preferential treatment in the Buyer's Guide. All research was based upon information provided directly by vendors, research and analysis by DCIG and other publicly available information.
It is worth noting that each Buyer's Guide is not intended to be a substitute for internal testing. DCIG encourages any organization that is considering the purchase of any solution included in a Buyer's Guide to do its own in-house testing.
Availability
The DCIG Flash Memory Storage Array Buyer's Guide is available immediately and may be downloaded for no charge with registration at the following http://bit.ly/151YjDD.
Resources:
DCIG Blog: http://www.dcig.com
About DCIG
DCIG, LLC, is an analyst firm with headquarters in Texas, focusing on archive, backup, retrieval and storage systems. DCIG's analysts blend analysis, journalism, advertising and marketing into compelling blog entries at http://www.dciginc.com as well as journalistic writings with leading trade and industry publications. DCIG's goal is to provide evaluations and interview content on sponsoring and non-sponsoring companies to consumers, public relations firms, business analysts and other companies. DCIG distributes industry, company and product analysis by way of viral marketing and community building using the burgeoning BLOG infrastructures created worldwide.