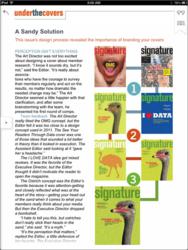 Readz is a great solution for transitioning content to tablets.
Los Angeles, CA (PRWEB) February 25, 2013
In a new-tech effort to reach a growing readership hungry for information about the publishing industry, the Association Media & Publishing has partnered with Readz – a content development platform, focusing on tablet and mobile environments – to create the first edition of the association's Signature magazine in app form, found in the Association's resources marketplace.
Signature magazine spotlights issues critical to the association publishing industry, including production, editorial, design, advertising, technology, social media and circulation.
"This is another way we are reaching out to our members with industry insight and information from the association," says Sarah Patterson, Executive Director of the Association Media and Publishing. "It's important to us to keep members informed in any way we can. Signature on tablets is another way our audience has access to our popular columns and content."
The Signature app is designed to reach members as they migrate to mobile devices - such as iPads - and away from desktop computers. With Readz direct-to-tablet publishing tools, Signature content was quickly developed with summary pages and tap-open articles.
Starting with the March/April edition of Signature, readers on iPads can enjoy a fluid, intuitive, un- interrupted experience created with Readz tablet publishing. Signature readers can easily receive content updates each time they open the Signature app from their iPad.
Readz publishing enables brands to re-create their content for tablet users. Tablet use is surpassing desktop and laptop use combined. Tablets now are more than half the size of the traditional PC market, or 58%, according to IDC research company. Companies big and small are seeking ways to transition their messaging, publications and entertainment to this evolving audience. Many are turning to solutions, like Readz, to on-board their content to tablets quickly.
The AM&P's new Signature app is called a "strong commitment" to its audience engagement. "We're excited to be in this space, able to connect our members and readers this way," adds Patterson. "We understand the trend, the changes, and we're looking forward to continue working with Readz as they support our future growth and digital content needs."
"We're excited about this partnership as well," adds Readz CEO Bart De Pelsmaeker. "Signature is a perfect fit for this web app. We feel Readz is a great solution for transitioning Signature - and other content, such as documents, magazines, articles, corporate communications and marketing - to tablets. We understand the experience should be light-weight and friendly, not slow or choppy. Also, content is easily updated and easy to grow. A great benefit for Association Media & Publishing."
The new Signature tablet app is available now to download to your iPad. Save, open and enjoy. Or visit the Association Media & Publishing's digital provider marketplace.